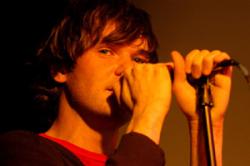 Looks like Liz might need to plan yet another vacay — according to NME, Scottish band Idlewild has announced a 10-year anniversary "Best Of" CD/DVD compilation and UK tour forthcoming. No USA dates. This is a big bummer in imaginary-land!
But we can take comfort because the set comes with a three-hour DVD of live concert footage, plus all the videos they've ever released. I've got the DVD players if someone can bring the popcorn. Stay tuned for the Imaginary/Roddy/Idlewild lovefest!
Here's the track listing, courtesy of NME:
The tracklisting is:

'You Held The World In Your Arms'
'No Emotion'
'Roseability'
'When I Argue I See Shapes'
'Love Steals From Us Loneliness'
'American English'
'These Wooden Ideas'
'El Capitan'
'A Modern Way Of Letting Go'
'Let Me Sleep (Next To The Mirror)'
'I'm A Message'
'In Remote Part/Scottish Fiction'
'I Understand It'
'Little Discourage'
'As If I Hadn't Slept'
'Live In A Hiding Place'
'Make Another World'
Greggoir, we're gonna count on you to hit up one of their many upcoming UK gigs…
Also, NME doesn't indicate a release date, and I can't find the set on Amazon.com or Amazon.co.uk. If anyone has info on when and where we can procure a copy, please share with the rest of us in the comments below.