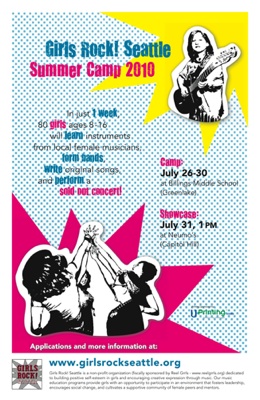 I found out about the Girls Rock! Summer Camp at the 2007 Seattle International Film Festival when the documentary of the same name screened and I got a glimpse at life in a one week girls-only rock-and-roll camp. I was also lucky enough to catch the showcase at Neumos that same week. Since then, I haven't been able to stop thinking about how awesome it would have been for my kid/teen self to attend, or how, if I ever have a daughter, this would be the first place I'd send her to learn how to express herself.
But I digress – though the Girls Rock! movie focused on the Portland camp, Seattle has its own, and it's accepting even more campers this year.
The deets:
Girls Rock! Seattle will hold a one-week day camp session at Billings Middle School, July 26-30 with a showcase at Neumos on July 31. Camp is open to girls ages 8-16. Applications and information are available at www.girlsrockseattle.org.
Girls Rock! Seattle's mission is to build positive self-esteem in girls and encourage creative expression through music. Music education programs will provide girls with an environment that fosters leadership, encourages social change, and cultivates a supportive community of female peers and mentors. Located in the Greenlake neighborhood, this year's venue, Billings Middle School, will allow the organization to serve twice as many girls as last year's inaugural camp. 
At camp, girls will receive instruction in guitar, bass, drums or vocals. In addition to learning an instrument, they will form bands, write an original song and practice it with coaching. At the end of the week, each band will perform their song on stage at a final showcase in front of friends, family and the public.  Girls will also participate in workshops related to DIY empowerment, self-expression, and self-esteem. Possible workshop topics include self-defense, zine making, music history, booking and promotion, handling sound equipment, body image acceptance, media awareness and music production. 
Girls Rock! Seattle is a member of a nationwide alliance of girls rock camps stemming from Rock n' Roll Camp For Girls, Portland.   Run entirely by a dedicated group of volunteers, the organization is currently fiscally sponsored by Reel Grrls and will achieve its own non-profit status in 2010.  This summer, Girls Rock! Seattle will also be hosting a Ladies Rock Camp for women (details to come) and as funding allows, will operate with a full-time staff and offer year-round programs and workshops and multiple summer camp sessions.
Not suprising: they're also gonna need quite a few volunteers. Sounds like the BEST possible volunteer job I can think of! You can apply here.
And….since there will also be a Ladies (!!!) Weekend Camp this year, I may get a chance to live out my rock star dreams.  In short: Girls Rock! Camp = Best Thing Ever.