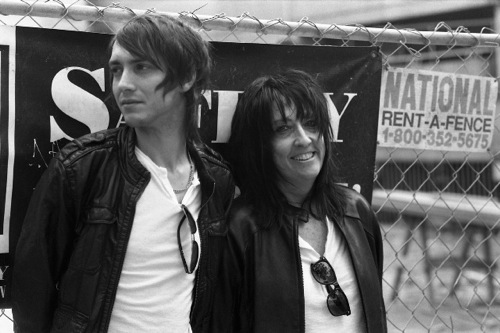 (Ed note: Since this was originally published, the band's name actually morphed into The Cali Giraffes – so look them up under calig in your record store bin.)
Recently, I've been hearing a lot of buzz around Seattle about the return of Fastbacks/Visqueen rock goddess Kim Warnick to the stage in the form of a new band, The Calligraphers. The brainchild of Warnick, Mikey Davis, and Evan Dando (Evan recorded one song, then went back to NY, leaving Kim & Mikey to carry on in Seattle), this poppy indie rock band is already making some big waves.
While I only know Kim peripherally through mutual friends, I do know that she has a great voice and can rock the hell out of any song you ask her to. Intrigued, I asked around about them and listened to some of their stuff. Check out their demo for "Let the Eyes Talk" and tell me you aren't bouncing just a little bit.
The biggest mystery surrounding The Calligraphers seems to be WHERE and WHEN they're playing. Luckily, Kim & Mikey have set up a blog, Facebook page, and Twitter account to help us out with that.
Their next show is Saturday, November 13 at West Seattle's Heartland Café (in the Benbow Bar Room) with Curtains for You. Who's in?
{Photo borrowed from The Calligrapher's Facebook page}