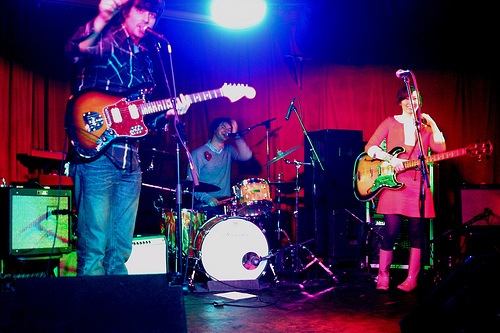 (photo by Amelia Gyde')
It's always a pleasure to announce "local band does good" news, so today, let it be my pleasure to tell you that Seattle's very own, Telekinesis! signed to Merge Records! Hopefully you caught them at imaginary liz's birthday party in December. Many of us here over in imaginary land having been crushing out on this band's 60's pop meets 70's breeze meets Pavement cool sound these days!
Their debut full length, Telekinesis! will be out this year, recorded by Chris Walla to tape (imagine the analog goodness!). Here's a taste of what's to come – one of my favorite songs from last year, "Coast of Carolina" off their debut EP Talouse-Latrec, re-recorded in all it's glory for the new record!
Telekinesis! will hit the road with Ra Ra Riot in February, including a stop at the prestigious Noise Pop! festival in San Francisco!
2/21 – Vancouver, BC / Richard's on Richards
2/24 – Portland, OR / Doug Fir
2/25 – Seattle, WA / Neumos
2/27 – San Francisco, CA / Independent (Noise Pop!)
2/28 – Los Angeles, CA / El Rey Theatre
3/1 – La Jolla, CA / UCSD – The Loft
3/2 – Costa Mesa, CA / The Detroit Bar