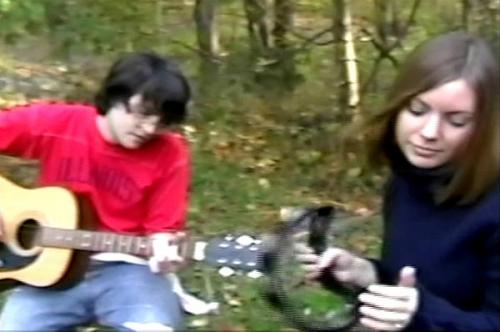 While we're on the subject of exploring new indie-pop bands on MySpace, we recently got an email about the Color Wheels, a husband-wife indie-pop duo from Poughkeepsie, New York who sound almost as cute and charming as they look (which, as you can see, is pretty damn cute and charming). They've got four pop gems and a record for purchase up on their MySpace page.
Jon sings and plays guitar (and bears more than a slight resemblance to Ben Gibbard). Psalm (yes, Psalm) plays drums and sings along. The overall effect is dreamy and romantic indie-pop. Take these sample snippets of lyrics I caught from the track "Rock My World":
"Take my love and give it a shove… Can I come to your family game night…? Do you wanna rock my world?"
The themes are nostalgic of young love in the same way as Math & Physics Club's "Sixteen and Pretty," though some of the tunes (like "Green Means Go") have enough jangle and spunk to take them out of arena of bedroom pop and elevate them to drive-around-the-burbs-and-dream-of-your-together-forever pop (I just made that up, but I hope it gets coined as a genre soon!).
While I don't see any tour dates on their MySpace page, the band does has a debut release available for purchase on Viper Bite Records, and if the track listing is any indication, I think I spy a Van Halen cover on there…