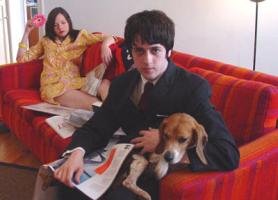 Today is the release date for the new Eux Autres album! Cold City is their second full length and it is on Happy Happy Birthday to Me Records. It's in line with their last album, lo-fi, sweet, jangly, smart.
If you act quick, there's a couple of their pre-order copies available for purchase on the HHBTM.com site, which come with lots of bonus goodies (EP, stocking, button, etc). I'd highly recommend it because this Portland brother/sister duo ooze with coolness – what magic could the official Cold City stocking hold? (no painful puns intended in that last sentence)
Want a sampling? You can hear/download a track ("When I'm Up") from the new album on the Eux Autres MySpace page. While you're there, check out their holiday song "Another Christmas At Home" and a couple favs from their last album.
Moreover, they are coming to town — and you can see them TWICE!
This Friday (12/7) at the Comet Tavern Three Imaginary Girls presents the fabulous bill of BOAT, "Awesome", Fishboy, and Eux Autres.

On Saturday (12/8) head up to Anacortes with me to the fabled Department of Safety (ALL AGES) to see Tullycraft, Fishboy, Eux Autres, and The Oregon Donor.
And if you're wondering about how to name drop them in convesations, head over to the Eux Autres website for a pronunciation guide and, for additional fodder, links to their tour blog.