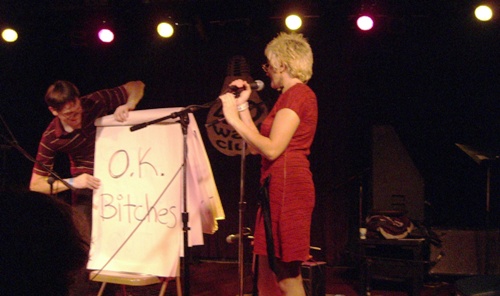 In the most recent (as far as I know) chapter in the Cars Can Be Blue travesty book, the band had a broken down car in NYC at 2am on the side of a highway in their middle of a tour last June.
Before that, and most notable, the duo found themselves stranded in Ranger, Texas for two months after their veggie-oil bus broke down at a truckstop. They ended up getting jobs at said truckstop (where I believe they also lived in the bus) while they waited for mechanics to figure out how to fix the bus. Ends up, they only needed a 30 cent fuse.
Now, Nate and Becky have been denied entry into the UK to play their tour. Here's the story from Hotpants Romance (with whom they were scheduled to tour the UK with):
"after waiting up all night in anticipation of cars can be blues arrival we got to the airport at 7am to find that they have been detained by customs on suspicion of earning money in the uk. we waited around for hours calling everyone we could think of to try and get the decision overturned, the american embassy, immigration advice, you name it. but unfortunately nothing could be done. they are being deported tomorrow morning. we are so fucking gutted, for the promoters and the cars can be blue fans but mostly for becky and nate ccbb. they are devasted understandably. it was their dream to tour the uk finally and we cant believe this has happened. jesus its not as if they were gonna do anything but possibly break even on petrol and transport. oh man. we are so sad."
Word has it that they are about to be put on a plane back to the US. They will have spent money on their flight for nothing. One of the UK show promoters has a little donation appeal for Becky and Nate – so they can get some of their wasted flight money back. Feel free to donate something to help the band out of this mess.
Meanwhile, their new album, Doubly Unbeatable, has one of my favorite songs of the year: "Coat Tails". While we'll be podcasting it in the near future, you can go hear it now on their MySpace page. Go listen (and, if you wish, donate to the sad cause) now.