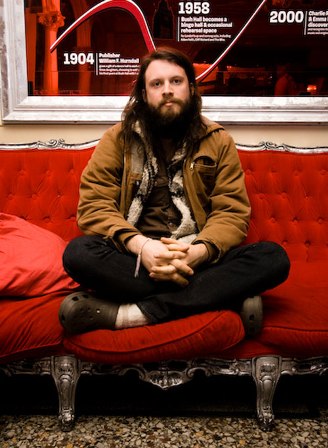 Last month, we heard the news that J. Tillman's next record will be out in September. If you can't wait that long, however (A Year in the Kingdom is still set to come out on 9/22) you can get your instant beard love on here: RockFeedback has just released video of a full half-hour recording session, showcasing Tillman's recent solo work in a well-deserved spotlight.
We've also got some West coast tour dates just shy of the record release, which looks like all California for now:
Aug 19 – Downtown Brew Pub W/ Pearly Gate Music – San Luis Opbispo, CA
Aug 20 – Muddy Waters W/ Pearly Gate Music – Santa Barbara, CA
Aug 21 – Echo W/ Evan Way & Big Search – Los Angeles, CA
Aug 23 – Cafe Du Nord W/ Pearly Gate Music & Moore Brothers – San Francisco, CA
Aug 24 – Crepe Place W/ Pearly Gate Music & Mariee Sioux – Santa Cruz, CA
Aug 25 – TBA – Big Sur, CA
I'm particularly excited to see that they're taking my new favorite heartstring-pullers Pearly Gate Music out on the road — while J. Tillman does handle percussion and some vocals for PGM, it's Zach Tillman that fronts the group. I've had the pleasure of seeing both bands over the last few months here in Seattle, and can confidently say that you won't want to miss these guys if they're coming through your town.
Check out more sweet sounds from J. Tillman here, and catch him with Pearly Gate Music here and here.
{And thanks to Sonny Malhotro for the photo!}