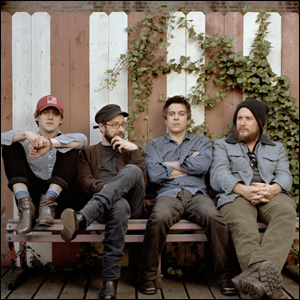 Have you heard about Monsters of Folk yet? If not, it's probably because you're not lucky enough to get PR emails. Our imaginary inboxes have been full-to-overflowing with news of the project, a collaborative effort of three indie-heavyweights: Conor Oberst of Bright Eyes, Jimmy James of My Morning Jacket, and singer-songwriter M. Ward.
We batted the idea of who should blog the project up, without much success. We at TIG all hold our grudges, and Monsters of Folk seems to have hit on a few of them. First imaginary ChrisB chimed in. "The beard quotient seems a little low (50%) for a band called Monsters of Folk," he noted. And he has a point.
Imaginary Liz added, "Conor might be my imaginary boyfriend, but I'm not a fan when his friend Jim James takes over the vocal duties."
I sit on her side of the My Morning Jacket fence as well; however, I make an exception for this project. In fact, I had the pleasure of seeing them perform Liz back in… oh, what year was that? Let's just say 2004. The three had some special chemistry and a whole lotta talent up there together.
So it became my duty and pleasure to share all the exciting Monsters of Folk news. New record! New tourdates! Free song download! Here are the deets.
First of all, the background:
"Monsters of Folk began as folklore of sorts, when James, Oberst, Ward and Mogis did their first run of shows together in 2004.  Like the musical revue shows that went town to town when rock 'n' roll was newly born, the tour was called "An Evening With:  Bright Eyes, Jim James and M. Ward," although amongst friends and crew, it became affectionately known as the "Monsters of Folk Tour."  While entertaining audiences coast to coast with gorgeous acoustic melodies and world-weary tales, the foursome vowed to make their way to a studio at some point after the tour's completion."
Next up, the new record:
"Monsters of Folk will be releasing their first collaborative album on September 22nd.  The self-titled effort was recorded in Malibu, CA and Omaha, NE, and produced by Mogis. The record will be released in North America on Shangri-La Music, and internationally on Rough Trade (UK/Europe), Spunk Records (Australia/New Zealand) and P-Vine Records (Japan).
All four members play every instrument on the album, supplying everything from drum kills to cascading backing vocals.  The songs – some road-worn fables, some intimate and intricate with electronic elements, some woozy and sun-soaked – are everything one expects from these four musical minds collaborating together.  The album exudes a warm, organic spaciousness, filled by brilliant choruses, intoxicating harmonies and effortless melodies, as each member brings his own strengths to the table to create one perfect whole."
And now, the tour dates:
MONSTERS OF FOLK FALL TOUR DATES
10/13: Vancouver, BC @ Orpheum
10/14: Portland, OR Arlene Schnitzer Concert Hall
10/15: Seattle, WA @ Paramount Theatre
10/17: Oakland, CA @ Fox Theater
10/18: Los Angeles, CA @ The Greek Theatre
10/20: San Diego, CA @ Spreckels Theatre
10/21: Phoenix, AZ @ Orpheum Theater
10/22: Santa Barbara, CA @ Santa Barbara Bowl
10/28: Omaha, NE @ Holland Center
10/29: Minneapolis, MN @ Orpheum Theatre
10/30: Chicago, IL @ Auditorium Theatre
10/31: Louisville, KY @ Louisville Palace Theatre
11/02: Toronto, ON @ Massey Hall
11/03: Boston, MA @ The Orpheum
11/06: New York, NY @ United Palace
11/08: New York, NY @ Beacon Theater
11/09: Philadelphia, PA @ Academy of Music
11/12: Stockholm, SE @ Philadelphia Church
11/14: Berlin, DE @ Huxleys
11/15: Copenhagen, DK @ Vega
11/17: London, UK @ Troxy
11/18: Paris, FR @ Elysee Montmartre
11/19: Koln, DE @ E-Werk
11/21: The Hague, NL @ Crossing Border
11/22: Antwerp, BE @ Crossing Border
Phew, that's a big 'un! And now lastly, the free song download:
"The musicians have made a track from their forthcoming self-titled debut album available for FREE. Their website is giving away the song, titled "Say Please," to anyone who visits the site and types "please" into the request form."
Awww, those fellows aren't just talented, they have nice manners. Always nice to see. And in the always pithy words of Imaginary Liz, "That "Say Please" song is pretty rad. They've totally been playing Guitar Hero in their spare time."
Well said, Liz. Well said.