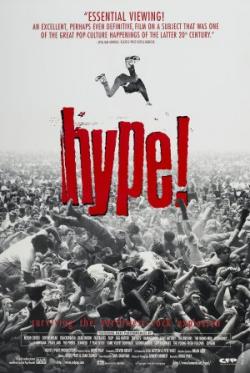 It's time for another TIG event to celebrate our 10th Anniversary! And this time, it's a film event, because y'all know how I feel about the film. So … dig out your flannel and Docs, because we're taking you back to the 90s with a showing of HYPE! at the Grand Illusion!
If you haven't heard of it before, or you know, in case you're not quite as old as I am, HYPE! is a great documentary about the Grunge scene, including interviews and performances from TAD, Mudhoney, Nirvana, Soundgarden, Coffin Break, The Gits, Love Battery, Flop, The Melvins, Mono Men, Supersuckers, Zipgun, Seaweed, Pearl Jam, 7 Year Bitch, Hovercraft, Gas Huffer and the Fastbacks.
We've planned a BIG evening of fun, starting with some nostalgic clips of Seattle bands, and Grunge Trivia hosted by Jen from Scarecrow Video — complete with prizes! (Don't worry; we've got a mix of easy and hard questions to satisfy both grunge amateurs and aficionados.) We even have the cutest Three Imaginary Girls film buttons to give away, thanks to the extreme craftenating skillz of imaginary liz.
Join us as we relive Seattle's 15 minutes of fame. (jk! we love our city!) Bonus points if you come in (almost vintage, right? gawd, it pains me to say that) clothes you actually wore in the 90s.
Three Imaginary Girls presents Seattle Grunge: A Dream of the 90s
Featuring: a screening of HYPE!
Grunge Trivia by Scarecrow Video w/prizes!
and a short clip show packed full of 90s nostalgia*
at the Grand Illusion Cinema
Saturday, November 10, 8:45pm, $8
*Videos provided by Scarecrow Video; editing by Brian Alter. THANKS, GUYS!