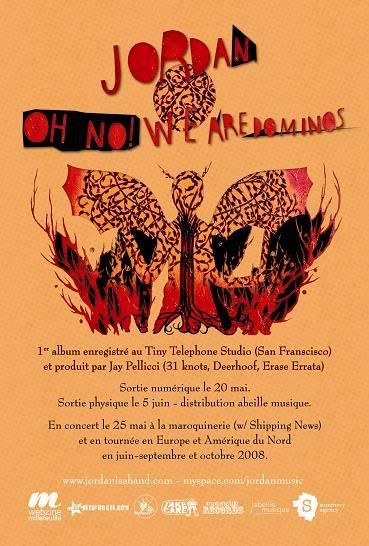 We just got the debut album by French band Jordan in the mail and I'm loving it!
The album is Oh No We Are Dominos! and it brought a major smile to my face with it's early Rapture discordant keyboards and shouting melodic vocals.
The album was recorded at John Vanderslice's Tiny Telephone Studio San Francisco and recorded, mixed and produced by Jay Pellici (31 Knots, Deerhoof, Erase Errata) which explains why the jabs of punk PiL are so sweet and meshed perfectly.
As their MySpace page succinctly states, "We play lo'fi dancing rock'n roll" and "We've rocked 13 countries in about 150 shows!" The album is out now (released way way back on June 5th) and they have plans to visit the states, but Seattle is not on their calendar yet.
There's a few of the key album tracks up on their MySpace page — go listen to Trois Quatre in particular and see if you can find the song "Fortune & Fortune's" somewhere on the web.