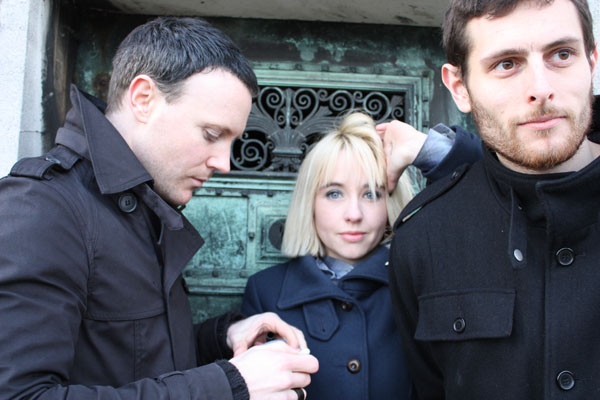 Finally.
The Welsh, indie, noise-pop band The Joy Formidable released their fantastic EP A Balloon Called Moaning in the US last week. It's been available in the UK for the better part of 2009 and is finally making its way stateside after building considerable buzz on both sides of the Atlantic.
The Joy Formidable is a power trio that meshes a lot of noise (loud drums, louder guitars) with lush but delicate harmonies. It's often quite joyous to listen to how all of the instruments mesh together and form something so cohesive and beautifully messy at the same time. At the beginning of the year when the band was in New York to play a couple of shows, I spoke with singer/guitarist Ritzy Bryan for a brief phone interview and she said that after a few months of working together "we eventually found a sound where we all said 'yeah, that's what we want to sound like' but that came from quite a bit of experimentation and going outside of the box quite a bit as well." She went on to say that "when we started writing together we set out to be quite experimental but we try to be as expressive as we can with the sonics and the sound. We all had different styles but we just threw it out there and after about six months of writing together we found a way to not be shy and be truthful with it and it locked."
The band rhythm section of the band is filled in by bassist Rhydian Dafydd and drummer Matt Thomas. Bryan told me they had been friends for several years before deciding to form the band.
The songs are mostly uplifting and joyous surrounded by as much noise as they can create melodically. My favorite is "Cradle" that showcases Bryan's fragile harmonies over the loud guitar parts and it's gorgeous.
One bit where there was some controversy (if you could call it that) was with a fan-made video to their single "Austere," which was deemed to explicit for YouTube. It's actually quite mild, but shows just the faces of people supposedly in orgasmic bliss. It's hardly pornographic and probably safe for work (although I guess that's subjective for where you work).
Fortunately for The Joy Formidable, they have built up a large fan base in the US online; I found out about the band from raves on the once-great music blog Idolator (before it went to hell). Although their A Balloon Called Moaning EP was just made available online and in record stores in the US last week, Bryan reminded me that the band does ship internationally, so it technically is available all over the world. The band should be releasing a full length album in the UK soon, so I'll remember that so the wait won't be as long to find its way to the US.
[video:http://www.youtube.com/watch?v=W66yhfMb4d0]