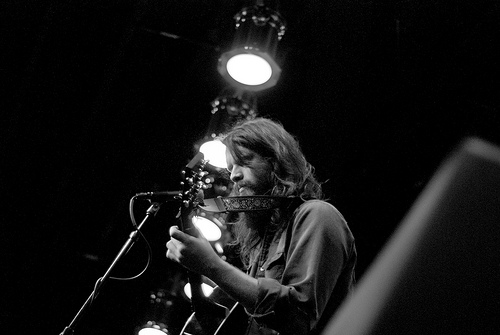 Beard and all, I loves me some J. Tillman. Really.
On his own, Fleet Fox-style, or backing up his brother Zach & the rest of Pearly Gate Music – whatever your personal taste may be, you've got to admit that this guy's got quite a bit of talent.
While the most recent show at the Crocodile left a bit to be desired (by fault of the crowd, that is, not the band), apparently the new album coming out on Western Vinyl won't disappoint. Based on the adjectives, it sounds like it's going to be quite a departure from what we've heard thus far:
Unknown to just about everyone, Tillman started recording in April, tracking most of the instruments during the two week session himself. Hammered dulcimer, banjo, recorder, cymbals of varying size and wheezing air organs all feature heavily and lend YITK it's bizarre scale, conjuring tidal shifts with tiny movements. The string arrangements, performed by Jenna Conrad, as well as transposed from Tillman's sung direction, were intended to rest on chords almost counter-intuitively, bringing to bloom complex, decontextualized tones.  Most noticeable upon first listen, however, is the production itself.  While most of Tillman's records evidence some shambolic home recording, YITK is undisturbed throughout. Out up front of the mix, and dry as a bone, Tillman's voice is featured in a way unlike any of his previous records.
To get a taste of what's coming to us from Year in the Kingdom, surf on over to this link and catch Pitchfork's exclusive preview of the new tune "Earthly Bodies." You can also make good use of MySpace if you're looking for more of what J. Tillman's got.
And the best part – tour info! Yay.
In 2008, Tillman joined Seattle band of longtime friends and musical collaborators, Fleet Foxes who he'll be touring with in Europe and the US throughout July, August and September.
 
Tillman will then embark on a national US tour for Year In The Kingdom in September which continue throughout the Fall.
Here's everything I could scour up on the subject:
The most up-to-date Fleet Foxes dates (thanks, Sub Pop!)
Pearly Gate Music playing at the Sunset in July, and an archive of their set on KEXP
But unfortunately (not yay!) from what I can gather, we'll just have to wait for J. Tillman's fall dates to appear on the interwebs. I'll be sure to post back as they become available – or if you happen to stumble across them, please – enlighten us with your comments!