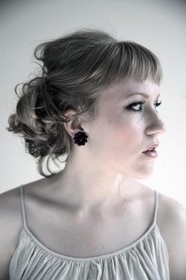 Kaylee Cole is one of Washington State's best kept secrets. The Spokane singer-songwriter and piano-princess has a way of crafting lyrics that squeeze your heart and your tear glands. I put on We're Still Here Missing You when I'm looking for beautiful, moody pop. Her songs make for a perfect rainy evening with a bottle of red wine and a whole lotta sentimental romance. Kaylee's got a way of making me so happy to be sad.
But she's not so secret anymore. In an email to her fans, Kaylee revealed that she's just signed to Chrysalis! Straight from the source:
I have exciting news!

I signed with Chrysalis Music Publishing ! I am officially apart of their family which includes most of my musical heroes. I'm slightly freaked out by that but mostly just very excited and thankful.

I'm headed to LA in four days time to record some tracks that Dave Sitek and I have been working on the past few months.

I also launched a new, little website => www.kayleecole.com where I have begun to write about all my new adventures.

That is all for now. It's thunder and lightening and rain in Spokane right now.

xoxoxo,
Kaylee Cole
Dave Sitek? You mean TV On The Radio's Dave Sitek? Kaylee's hitting the big time! I can't wait to see what happens when her earnest, honest lyrics meet Sitek's slick production. Make sure to check her blog for more info, or follow her totally rad Twitter feed, where she once told me I was a character from Twilight. But in a good way!
Wanna see what we love Kaylee so much? Here's a vid of her playing "The Ghosts" at Cafe Allegro this past January.