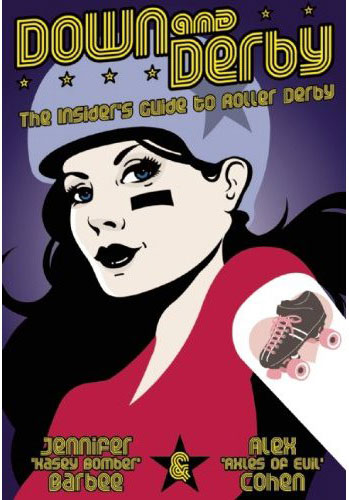 For fans of local roller derby dominators Rat City Rollergirls (a team which is one of the very finest nationally and cram their regional tournaments with frothing fans every time), the book Down And Derby: An Insider's Guide to Roller Derby needs to be up on the shelf with the torn off band-aid backings, the beer-doused punk rock bootlegs, and the used-for-skeet skuffed DVD of Whip It.
Written by veteran NPR host Alex Cohen with WGA veteran and Blood And Thunder magazine scribe Jennifer Barbee, the new Soft Skull Press anthology of roller derby history, how to, and contemporary heroes is one of my favorite recent tomes. Due to appear and read at Elliott Bay Book Company (1521 10th Avenue on Capitol Hill) on Friday, August 27, at 7 PM, new and old fans of the woman-empowered sport shouldn't miss this appearance from these authors.
Down And Derby elegantly describes the savagery from the center of the California stomping grounds (and the celebrity of Toughie Brasuhn and Gerry Murray, just before the damage moved on to TV back in the day) to the dirt county sidelines ("If You Can't Be An Athlete, You Can Be An Athletic Supporter," with expert advice on how to get good tats and get on properly as a participating fan). As a dude who loved watching derby on the tube growing up in the 70s, it's a trip to see another wave of wonderful women like Kamikaze Kim and Tequila Mockingbird bounce their sisters around and go for the gold. Down And Derby discusses the various positions of the players, and is honest about why some aspects of playing rules and other duties really suck.
From "The Spandex Years" and "Deep In The Heart Of Texas" to portrayals in film and other media, this new book is great for both for nervous neophytes and old school bruisers. Come out and say hello to Barbee and Cohen and you might rub elbows (watch out! Ow!) with a few local Rat City ragamuffins too. Sweet.