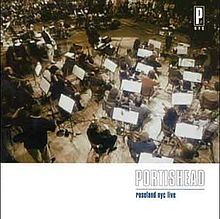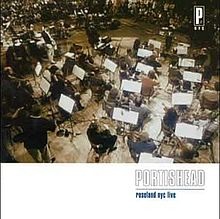 It seems that a lot of people I speak with are not fans of live albums. Contrarily, I have always been a collector of both official and bootleg live releases by groups that I follow.
In many instances, bands sound so much better live, especially when considering dated production periods such as the mid to late 1980s. When great songs are marred by stale production, similar era live recordings often sound so much more natural and powerful than their often rigid studio counterparts. In other examples, artists work out different arrangements or simply have more time to develop a track when it is performed over a period on the road. Of course, many live releases are not definitive, but following are a few that I consider to be as good, if not better than the original album renditions.
Portishead: "Sour Times" (from Roseland NYC Live, 1998): This murky, intense version of "Sour Times" was occasionally performed in this arrangement during the tour for their eponymous album (1997) and is included on the CD (but not the DVD) of Roseland NYC Live. This amazing and rather different rendition was actually recorded in San Francisco in April of 1998. I will take this over the standard version any day.
Nick Cave and the Bad Seeds: "Plain Gold Ring" (from Live Seeds, 1992): This track was recorded by Nina Simone on her first record, Little Girl Blue, in 1958. The Bad Seeds performed this stunning song during their Henry's Dream tour and this performance certainly rivals Simone's. Live Seeds is constistently great otherwise, but is worth it just for the inclusion of this song, which does not appear anywhere else.
The Cure: "The Figurehead" (from Paris, 1992): In 1992, The Cure were at the height of their popularity and had toured the US and Australia prior to returning to Europe as part of a massive trek across the globe in support of Wish. The group did a three night stand in Paris in October, of which the amazing twelve song live album was released. Paris featured mostly older, obscure tracks and this is another example of The Cure at their best. This slower, even more mournful version of "The Figurehead," originally from Pornography, is a particular highlight.
The Triffids: "Hell of a Summer" (from Stockholm, 1989): The Triffids are an amazing band from Australia who remain relatively obscure in the US to this day. "Hell of a Summer" features everything that is wonderful about the group: great vocal delivery from David McComb, atmospheric guitar interplay, tight drumming and groovy, almost funky bass from Martyn P. Casey (later to join Nick Cave and the Bad Seeds).
Swans: "Blood Promise" (from Swans are Dead, 1997): This painfully gorgeous track originally appeared in a radically different form on 1995's The Great Annihilator, an incredible album that may be their best. Both versions are beautiful, but the live version was morphed into an epic 15 minute opus during their (original) final tour. I don't know if I could pick a preferred version, but I certainly cannot live without this one.
Bob Dylan: "I Don't Believe You (She Acts Like We Never Have Met)" (from The Bootleg Series Volume 4, Manchester 1966): This is an electric performance of the song originally from 1964's Another Side of Bob Dylan, and I think that it trumps the original. This version is from the legendary 'Royal Albert Hall' show. The spleen strewn into that electric set will forever be untouchable.
If you have a particular favorite live album or track, I would like to hear about it, so feel free to add comments below.