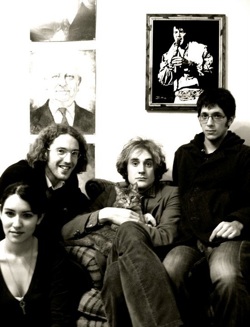 For those out of the loop, Tomten is a Seattle band that enchanted the judges this year at the EMP Sound Off! finals. So much so, they aced the "Wild Card" vote and won. (OK, yeah, I was one of those smitten judges, hence the following interview.) They have a sweet nine song debut available at local record shops, and with a lot of shows coming up, you're going to be hearing a lot more of them. They're booked to headline the High Dive this week on Thursday, April 28, then the all-ages Vera on May 13. Both shows are more than worthy of your night-out dollar.
Also coming up is the beloved literary/music event Verse Chapter Verse, this time held at Chop Suey on Saturday, May 28 (7pm). This installment will be with cult science-fiction author China Mieville, who will be interviewed live by The Stranger. Paul Constant, a VCV promoter and fellow Stranger scribe, descibes Tomten as, "…a local up-and-coming rock and roll outfit that calls back to the Rolling Stones and the Zombies while moving forward with a jittery kind of gonzo energy. I think their organ-heavy music will mesh with Mieville's self-described weird fiction in fantastic, science fictional ways."
Below is our hot-fresh interview with singer/songwriter/guitarist/organ grinder Brian Noyeswatkins, initiated when I ran into him at the Elliott Bay Bookstore Cafe as he was planning to quit his job at Value Village and grabbing a coffee. He had a bad cold, but that didn't prevent us from lining up this exchange and bonding over Big Star and other sublime frequenices.
TIG: Please give us the nitty gritty (as um – my folks used to say) on the immediate shows coming up! One at the High Dive and a big line up at the Vera, right? Tell us tell us tell us. (Also: Costumes? Raffle prizes? Cover versions?)
Brian Noyeswatkins: YES! Our next show is  at the High Dive this coming Thursday April 28th with our Sound Off! friendlies, Kithkin and Sorry Youth Advisory Board, starting at 9pm, for $6 (Sadly, 21+). We are also very elated to have a Vera show on Friday, the 13th of May, with Fox and The Law, The Turpentines, and Ambulance. 7:30pm, $8. ALL AGES! I am excited to play our first all-ages show since Sound Off! We're hoping it'll be a big show. Plus, if you come dressed as Jason Voorhees, we'll make fun of you and let you in for free (maybe). First five? We'll see. As far as covers go, I had a sneaky idea to do "Kodachrome" by Paul Simon, so we can stick to the photography theme seeing as the only other cover we've done was The Kinks' "Picture Book." But we'll probably flake on that scheme.
Tomten is a fairy tale about a "little bastard Santa" character, right? Why would you name your band after such a thing?
BN: I wanted a band name that was one word. No "The 'Bear, Bee, Whale, Sea, My – Something, Deer,' bullshit." I like that it has this folklore behind it, but I also don't want to necessarily conjure up images of that wintertime scoundrel. It's good that few Americans know what it's referring to, and I enjoy hearing the flubs. (Totem, TOM-TEN, Tomtem, Totmen). Three cheers for dyslexia!
How'd the recent gig at the Columbia City Theater go? Is it true your parents flew out from your hometown in California for it?
BN: A splendid time was had. I heard someone describe Columbia City Theater as the venue you would be proud to take your mother out to. Their timing was good as well, they hadn't seen us yet and were able to see two shows. We also played Washington Ensemble Theater's Gala at Washington Hall that weekend which was one of my favorite nights that I don't particularly remember. It was cute seeing them dance.
Has there been a surge in audience numbers since you won the "wild card" Sound Off! finalist prize?
BN: Hmmm, I wouldn't say "surge," but maybe a light splash of increase; a teasing spray from the water pistol. BUT in many ways the shows are getting better and better, and that's always nice to see. We're getting more offers for shows than before and better venues and a potential trip to Reykjavik!!!!!!! (Shh…details on that soon.)
How the hell did you get involved with Sound Off! and what will be your eventual personal glory from participating down the line? (Recording a new album with the prizes, etc.?)
BN: I applied in 2009 when Lena and I were still a duo and sent in some less than mediocre demos and we didn't make it in, but I went to the 2010 shows and found it to be a wonderful program, no matter the outcome, every band that competes in it gets a great amount of exposure, even if being in the EMP makes you feel a bit like you're waiting to get your picture taken with Kenan and Kel and then dropped down a chute into some "goo".  Thanks Frank Gehry!
We have 2 days at Orbit to begin recording the next album, I want to take more time with this record, but hopefully have it ready by the end of the year or early 2012.
We know from your song "Ciderhound" that you enjoy a glass of that tasty beverage! Who else is in your band (full names), what they tend to play, and what are THEIR own tasty beverages?
BN: Lena Simon: Bass, vocals. Gregg Belisle-Chi: lead guitar, vocals. Jake Brady: drums. (I forgot to ask them their favorite tasty beverages so I'll make up the worst thing possible…(censored), Keystone Light; Mr. Pibb; Tapatio; Drano.)
Tell me about your whole origin story! The Cornish thing. Also: Why didn't you want to be an actor instead (per your original plan when you came to Seattle to go to Cornish)?
BN: Lena and I were sitting on the floor of a Cornish practice room playing some stupid Magnus chord organ duet we'd written about Scones and Auld Lang Syne. Gregg then poked his head in and showed me that I suck at guitar by playing one himself. Things started from there. I left Cornish cause Acting is for sissies.
Are you going to be working with the producer you did last year's album with?
BN: ANDY MEYER! We actually haven't sat down with him yet to talk about this new record but hopefully he will be on board. Andy is an exceptional engineer. He shares the love of analog and turned me on to Joe Meek. He also likes getting one really slick microphone and taking it out to a remote cabin in the woods to record an album. He is the Space Echo Lord High Executioner as well. These are a few of the many reasons why we love him. Our good friend Jason Gray recorded the debut and Andy took over mixing and mastering. It was mainly thin because we were trying to mix ourselves and didn't really have a clear idea. Jason did a terrific job recording the album and he also recorded the "Anyone's Guess" Single.
You write most of the songs for Tomten, but are they written by yourself and then brought to the band? Or do you work them out together? A little of both? (Please 'splain.)
BN: I write all the lyrics and my organ or rhythm guitar parts. I'll bring whatever shape the song is in then to the band and we'll all arrange it together and they'll come up with their own parts. I've found it to be pretty efficient. I'm by far the worst musician in the band technically, so I'm very lucky to have them. I would never go up to Gregg and say "look champ, I wrote this butt rock guitar riff for you and you're gonna play it." He writes his own butt rock guitar riffs.

I love the sarcasm and satire of "Robber Barons" and "The Pleasure Is All Yours" on the debut. Can you tell me what they're about? I have my own interpretation but would love to hear the meaning from the horse's mouth (sorry for calling you a horse, man).
BN: I wrote "Robber Barons" because I love/hate those old cut-throat venture capitalists and I love Monopoly, so I wanted to have a song that tied in the rise of a tycoon moving up in the world by name dropping the progression of properties on the Monopoly board in value. Just some fun "Cheeky Pop!"
I got the idea for "The Pleasure Is All Yours" after I watched the 1944 film Gaslight with Ingrid Bergman and Charles Boyer. Gaslighting is my favorite form of psychological abuse and if you do it right you can have someone in a padded cell in no time. Yippee!
But also as you said, I hate bullies too.
You grew up loving the Kinks! What came next? And then when you started a band — any others bands make sense as inspirations And does growing up in Steinbeck's California have an influence on your songwriting at all, or is it all an internal thing?
BN: Well, The Beatles (actually) came first. I got Rubber Soul for Christmas when I was in 4th grade and it will always be my favorite Beatles record. I didn't really get obsessed with the Kinks until I was 14 or so, but after I had listened to all the Kinks albums (yes, even Phobia *sigh*) it was The Velvet Underground, The Zombies, The Cure, Papercuts, The Buzzcocks, Patsy Cline, Donovan, Bing Crosby, Curtis Mayfield, ELO, et al.
What other authors do you like?
BN: Italo Calvino, Anthony Burgess, George Orwell–especially Keep The Aspidistra Flying, P.G. Wodehouse, Cormac McCarthy, Roald Dahl (love his "adult" book "My Uncle Oswald").
Three favorite keyboardists and why.
BN: 1) Fats Waller–"Your feet's too big, don't want you cause your feet's too big, can't use you cause your feet's to big, I REALLY HATE YOU CAUSE YOUR FEETS TOO BIG!!!!!!!" Also amazing organ rendition of "She'll Be Coming Round The Mountain."
2) John Cale: All because of the albums "Vintage Violence," "Paris 1919," and "Fear." He can be an enchanting gentleman and a vicious spazz and I love that!
3) Alan Price: When you have three hours to sit and watch Linsdsay Anderson's 1973 film O' Lucky Man! you must! Alan Price did the entire soundtrack and acts as the Greek chorus to the film. Such cool and satisfyingly simple songs, this album alone makes him one of my favorite keyboardists I also love his extensive use of RMI Electric Pianos.
I know you said three, but there are so many: Ray Charles, Billy Preston, Nicky Hopkins, it goes on and on and onnnnnnnnnnn.
Three Tomten songs you think should be in hourly rotation on KEXP and why.
BN: 1) "All On A Winter's Day": One of the songs I was happiest with on the album, we need to play it more live. 2) "Robber Barons": Quick and bouncy. Good length for radio. 3) "Sonny Don't": Andy did a great job making the mix of this spooky. I'd be happy if it got some plays.
Oh yeah God, I love "Sonny Don't"! Great suggestion. Also: Three bands Tomten should open for and why.
BN: 1) Papercuts: I've wanted to open for them since high school, Jason Quever has written some of the most beautiful recent music and somehow isn't that big. 2) Beach House: Dreamy and organ-heavy I would be grinning from head to toe if we were given that honor. 3) Sparks: In my dreams!
Who is Jake Thackray and why should we know about him? (And thanks for turning me on to his work when we chatted before!)

BN: Jake Thackray is this very droll English Chansonnier-type. He loved people like Georges Brassens, and Jacques Brel. Imagine that but with a slightly lighter kind of satire in his work. Songs like "Lah Di Dah," "Personal Column," "Scalywag," and "The Last Will and Testament of Jake Thackray" are absolute gems. He is a brilliant songwriter and a huge influence for me.
Who else is an influence on your songwriting?
BN: Vashti Bunyan, Robyn Hitchcock, Nilsson, Randy Newman, Alex Chilton, Chris Bell. Mmmmmmmmm.
What should we look for from Tomten in 2011 in terms of shows and records?
BN: All aboard for Funtime! The Stranger's Verse Chapter Verse with China Mieville, Portland, and many Seattle summer shows, hopefully a few more all ages ones, we may take a short break at some point late summer to begin work on the new album which will dwarf the first one! Woo-hoo! BUMBERSHOOT! and if it is confirmed this amazing opportunity to travel to Iceland to play Reykjavik's Cultural Night!!!!! Cross your fingers!
We will! And thanks for answering all these damned questions!