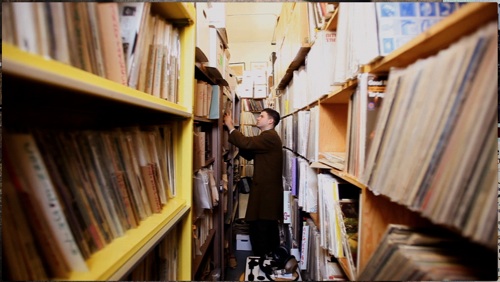 There's a veritable slew of PNW representation going on at SXSW this year, as there should be: local (now national) faves The Head and the Heart, The Young Evils, Damien Jurado, an impressive SXSeattle showcase, and of course KEXP will be ever-present with sets from John Vanderslice, Jessica Lea Mayfield and Wild Flag… we could go on for hours. But there's another facet of South-By that we wanted to touch on for a moment, and that's the film portion that goes on prior to the big hot mess of a music-fest — and we're bringing it up because we've got some locals standing out from the masses there as well.
Greg Vandy (KEXP / American Standard Time) and his friends over at More Dust Than Digital have made a short film that's been accepted into the festival, about roots-music new-time old-time genius Frank Fairfield. They follow Frank around town to spots like Bop Street and a performance over at Columbia City Theater, all the while featuring clips from both his music and his "encyclopedic" frame of mind. It may not be sparkly and it sure ain't indie-pop, but it's chock full of local flavor and we couldn't be happier to pass along our congratulations!
View the trailer here, and get stoked for the screening: the short is making it's world premiere in Austin on Saturday, March 12th at 11:30a — more information on the specifics (how to find Alamo Lamar B, for instance, as well as other screening dates for the weekend) is available at the film's SXSW page here. The film has a few showings during the fest, but Greg will be doing a Q & A after the Saturday showing, so we'd put our money on that being the one to make the time to attend.
Good luck in Texas, everybody!