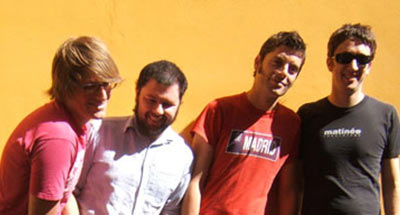 The news might have seeped out in the last couple weeks, but I am not sure if we here at imaginary headquarters have made it official: THE LUCKSMITHS ARE COMING TO SEATTLE!
We are so excited and honored to be presenting the show. Mark your calendars now:
MONDAY, September 24, 2007 at the Crocodile
The Lucksmiths
Math and Physics Club
Fred Astereo
There are a ton of reasons to join us…
1. The Lucksmiths are traveling all the way from Australia to be with us and they are only playing a handful of dates on this mini-tour of the states.
2. Math and Physics Club have been busy working on a ton of stuff (which has resulted in them not playing out much) — so this will be a rare opportunity to catch them before the end of the year.
3. Additionally, Math and Physics Club will be releasing their new EP in September… so who knows? Perhaps there might be an even bigger celebration element to the eveing. New EP means NEW SONGS on the the set list!
4. Lucksmiths Labelmates (Australia's Lost and Lonesome Recording Co) Fred Astereo are touring with The Lucksmiths this time around so this will be a great chance to see this new (and up and coming) band on the indiepop scene.
AND THAT'S NOT ALL!

The Lucksmiths are touring to support the huge release of a double CD! The album is appropriately titled Spring A Leak because it's a massive collection of 45 of their finest non-album recordings from the past decade. The album features 7" tracks, b-sides, compilation songs, live gems, unreleased rarities, cover versions, radio sessions, and remixes across a specially priced two-disc set. Even the most devout Lucksmiths fan is bound to find a new gem hidden here!
Want a samping? The Lucksmiths' US label, Matinee Recordings is hosting a track for your listening enjoyment: a cover of 'Dolly' by fellow Australian legends The Sugargliders! (it's the 5th track down)
OK, I need to go take a deep breath now. At a later date I'll go into why you should never miss a Lucksmiths show ever and the power of clever lyrics and catchy hooks.