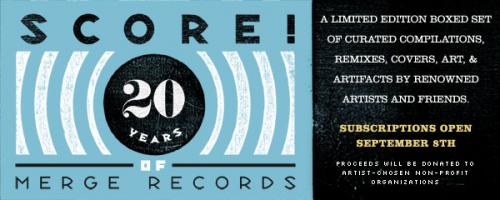 1988 was a big year for indie rock. I guess we can thank the Reagan / Bush years for something — spawning the birth of two of our favorite big-time indie labels (isn't there that study that proves conservative politics inspire great music?): SubPop and Merge Records.
Earlier this year the SP20 knocked our socks off. Now, Merge Records is marking their big 2-0 with a deluxe subscription-only box set with special artwork and packaging.
The first two volumes will kick off a series of 14 custom-curated compilations spanning the Merge Records catalogue, each featuring the curators' handpicked Merge selections as well as exclusively commissioned original artwork. These compilations and additional exclusive content will be delivered only to SCORE! subscribers throughout Merge's 20th anniversary year of 2009.

The curators of the first volumes will be Peter Buck of R.E.M. and Phil Morrison, director of Junebug, The Upright Citizens Brigade and numerous music videos. Curators for future volumes will include Amy Poehler, David Byrne, author Jonathan Lethem, artist Marcel Dzama, Momofuku chef David Chang and many more to be announced.

Additionally, the entire SCORE! Merge Records: The First 20 Years project will benefit specific charitable causes handpicked by the curators.

Quantities will be limited to the number of subscribers who enroll between the September 8 start date and the January 2009 delivery of the first two volumes.
Pre-orders will begin September 8 at mergerecords.com.
What do you guys want to see in the mix? Which curator do you think has dibs on the early Magnetic Fields songs?