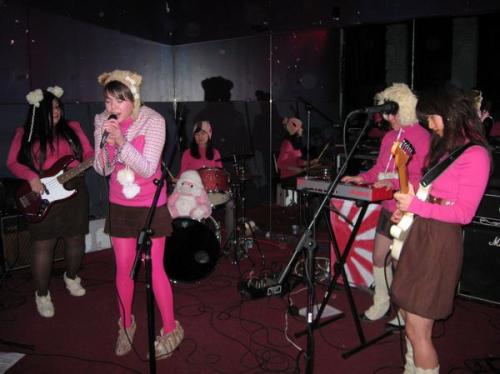 Photo by Maura Donoghue (from MySpace.com/MiniRexMusic)
Local Seattle-based, punk-pop, all-girl, half-Asian, awesomely-costumed band the Buttersprites have been on extended hiatus. But fans of the band's lo-fi sound and snazzy outfits need not despair — we've just gotten news of a new side project featuring Buttersprites Jen Gay (drums), Julie Grant (keys), and Lunarre Omura (bass), as well as "go-go gorgeous" Cathy Le (guitar) and Seattle singer-songwriter Amzeah Smith (vox).
The new band is called MiniRex and if the two tracks on their MySpace page ("Judy" and "Stalker") are any indication, fans of the Ramones and the Jetsons may get giddy for the band's minimalist, sassy punk stylings.
Of course, if the photos are any indication — and based on their past history, we know they are — MiniRex is a band to check out live. Lucky you, they've got a couple of shows coming up:
April 28 at the High Dive
May 10 at MIX (Christoff Gallery) in Georgetown
You heard it here first, kiddos…