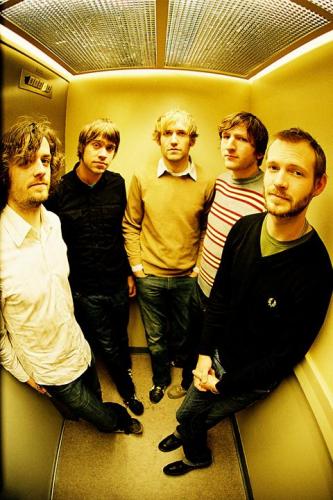 Seattle band Minus the Bear are busy! They're in the throes of recording their forthcoming full-length release Planet of Ice (due out 8/21/07 on Suicide Squeeze Records), and they're about to kick off a month-long tour with labelmates Chin Up Chin Up and Brooklyn-based band Honorary Title that will hopefully bring them to a town near you.
Have a sneak peek listen to a brand spankin' new song from Planet of Ice, called "Dr. L'Ling"
From the press release:
Planet of Ice, is the definitive statement and a major step forward for Minus the Bear, showcasing both their growth as songwriting unit and their prowess as a live act. The band has been chronicling their development of the record with regular blog posts via the "Minus the Bear My Space page" and have made plans to release footage via You Tube page in coming weeks. The aim is to provide fans an in depth look at the recording process as well as a sneak peak at songs from their forthcoming record. Planet of Ice was co-produced by Minus the Bear and longtime collaborator/former member Matt Bayles (Mastodon, Isis), with additional production duties from Chris Common.
Sounds promising, especially since their last record of remixes was kinda disappointing for the diehard Minus the Bear fans here at TIG.
And of course, here are those tour dates. Those Minus the Bears sure do get around!
4/26 — Seattle, WA — The Vera Project
4/27 — Portland, OR — Hawthorne Theatre
4/28 — Eugene, OR — Indigo District
4/29 — Reno, NV — The New Oasis
5/1 — Orangevale, CA — The Boardwalk
5/2 — Santa Cruz, CA — The Catalyst
5/3 — San Francisco, CA — Great American Music Hall
5/4 — San Luis Obispo, CA — Downtown Brew
5/5 — Los Angeles, CA — Ex Plex
5/6 — Solana Beach, CA — Bely Up Tavern
5/8 — Las Vegas, NV — House of Blues
5/10 –Colorado Springs, CO — The Black Sheep
5/11 — Lawrence, KS — Granada Theatre
5/12 — Iowa City, IA — Picador
5/13 — Champaign, IL — High Dive
5/14 — Sauget, MO — Pops
5/15 — Chicago, IL — Beat Kitchen* AA show
5/15 — Chicago, IL — Beat Kitchen** 18+
5/16 — Milwaukee, WI — Pabst Theatre*** w/ HT, CUCU, Maritime
5/17 — Minneapolis, MN — Triple Rock Social Club
5/18 — Minneapolis, MN — Triple Rock Social Club #
5/19 — Fargo, ND — The Aquarium
5/21 — Omaha, NE — Sokol Underground
5/23 — Denver, CO — Bluebird
5/24 — Aspen, CO — Belly Up
5/25 — Salt Lake City, UT — Club Sound
5/27 — Qunicy, WA — Gorge Ampitheatre (Sasquatch)
* Honorary Tile only
** Chin Up Chin Up only
# w/ Honorary Tile, Chin Up Chin Up and POS