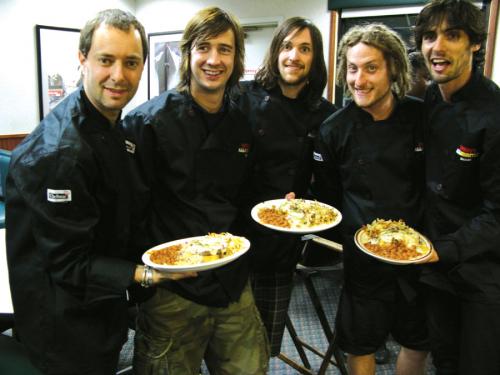 Denny's, the most rock and/or roll of all dining establishments (true, or at least it is in places that don't have their own Hurricane Cafe), will become even more rock and/or roll this evening (probably much less true).
From the press release:
Starting at 10 p.m. tonight in Denny's restaurants across America, fans can order menu items created by their favorite bands for Denny's Rockstar Menu, presented by Dr. Pepper. In conjunction with the Denny's Allnighter program, Denny's opened up its kitchens to four of today's hottest bands – Taking Back Sunday, Plain White T's, The All-American Rejects, and Eagles of Death Metal – and challenged them to create the perfect late night menu item. What emerged was a menu that can satisfy every late night craving, savory or sweet:

"Taking Back Bacon Burger Fries" by Taking Back Sunday
"Plain White Shake" by Plain White T's
"The All-American S.O.S." by The All-American Rejects
"Heart On A Plate" by Eagles of Death Metal

For full menu item details as well as access to our behind-the-scenes photos and video diaries from each band's day in the Denny's kitchen, head over to http://www.dennysallnighter.com/rockstarmenu
I know we've long determined all of these bands lame but my most rock and roll dining experience occurred in a Denny's. Here's what happened:
In a previous life, I was a fast food manager and after closing the restaurant one night, a friend and coworker and I went to the Denny's on Evergreen Way in Everett (where we both lived and worked) on a Saturday night. We were seated in one section in between a table of strippers behind us and on the other side was a table full of drunk Navy guys (this was after 2 am, so the "gentleman's club" down the street and all of the bars were closed. My friend was bemoaning the fact that none of the younger employees on our crew could appreciate "real rock music" and said "not one of those kids has the faintest idea who Glenn Danzig is." One of the ladies from the table (because we were all seated so close) said "well, I have no idea who Glenn Danzig is; who is he?" Then one of the drunk Navy guys, who was loaded, said to everyone in the restaurant "he used to be the lead singer of The Misfits, you stupid bitch!" This lead to a conversation with the waitress, who was threatening to throw him out, about the usefulness of breast implants.
Because of Denny's new "Rock Star Menu," I expect this experience to be replicated in 24 hour diners across the country, except I expect the strippers to be complaining about how none of their customers know who Tom Higgenson is.