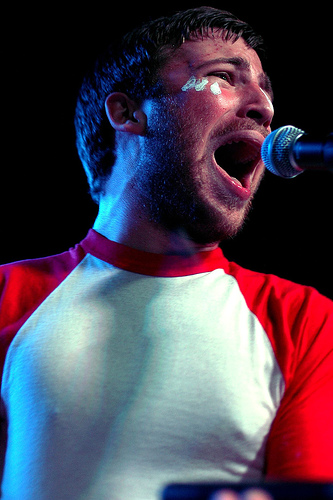 Seattle-based post-teenage electro-pop sensations Natalie Portman's Shaved Head have just announced a mini-tour with none other than Saddle Creek Records' band the Faint.
With all the sad news about Seattle bands breaking up in recent weeks, it's great to hear about one of our own heading out on such a high profile tour. The band will also play at CMJ at the Mercury Lounge on October 22nd, for those of you lucky enough to be attending.
Here are those tour dates:
10.22 New York, New York @ The Mercury Lounge
11.07 Sacramento, California @ University Ballroom @ Cal State (w/ the Faint)
11.08 San Francisco, California @ The Warfield (w/ the Faint)
11.09 Portland, Oregon @  Roseland Theatre (w/ the Faint)
11.11 Seattle, Washington @ Showbox at the Market (w/ the Faint)
11.12 Missoula, Montana @ The Other Side (w/ the Faint)
And for the uninitiated, here's a sample of the sheer naughty numminess that is Natalie Portman's Shaved Head: a dancy little ditty called "Me + Yr Daughter." Listen!