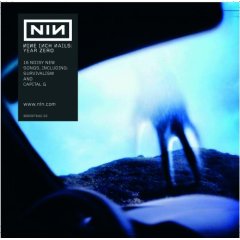 It's a pretty light release week, but as usual there is something for everyone!
NINE INCH NAILS puts out a long awaited record entitled Year Zero. This is one of those bands that I never totally got, but people go crazy for Mr. Reznor and his music. I guarantee this will be one of the releases that people line up for at Midnight!
If alt-country is your bag then this is a great week for you! Pam Tillis (daughter of legend Mel Tillis) puts out her first album in years (Rhinestoned). Rumor is that she finally has made a record the way that she wants and has steered away from "Nashville" both in sound and in philosophy. I haven't been able to get my hands on a copy yet, but boy am I curious!
The music isn't new, but it's the kind that never dies. Flying Burrito Brothers The Definitive Collection comes out today and is a must have for anyone who loves FBB or any of the bands that have been influenced by them (too many to list!).
And we have a couple of locals putting out new records this week: Chrisopher Blue, Graig Markel, and the Clorox Girls (who are really boys! Get it?) all put out records today. The Clorox Girls were at Easy Street Queen Anne on Friday for an in-store and they rocked the house, playing new material from their disk J'aime Les Filles. Love it!
Here is the short list:
CHRISTOPHER BLUE – Room Tones
CLOROX GIRLS – J'aime Les Filles
COWBOY JUNKIES – At The End of the Path Taken
FLYING BURRITO BROTHERS – The Definitive Collection
JOSEPH ARTHUR & THE LONELY ASTRONAUTS – Let's Just Be
GRAIG MARKEL – Via Novella
NINE INCH NAILS – Year Zero
THE NOISETTES – What's the Time, Mr. Wolf?
MICHAEL PENN – Palms And Ruins, Tarot And Tea: The Michael Penn Collection
MICHAEL PENN – Mr. Hollywood Jr., 1947 with six live tracks added
SOUTHERN CULTURE ON THE SKIDS – Countrypolitan Favorites
PAM TILLIS – Rhinestoned
SONNY SMITH – Fruitvale (Belle Sound)
What new music is everyone out in imaginary-land excited about today?