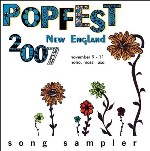 We imaginary girls look for any opportunity to thrust free indie-pop downloads your way, celebrate indie-pop music festivals, and talk about the bands Brown Recluse Sings and Pains of Being Pure at Heart.
Thanks to the folks putting together the New England Popfest for putting together this free 22-song sampler and posting it so we can download it (and the corresponding cover art!) on the web for free.
The Popfest is coming up soon! It's going to be November 9th-11th at The Elevens in Northampton, MA. Is anyone headed that way? Can you send some pictures and reports back so we can live vicariously?
The tracklisting:

01. Candy Land – The Grade Grubbers {Buffalo, NY}
02. Moped Rally – Colin Clary & The Magogs {Burlington, VT}
03. Doing All the Things That Wouldn't Make Your Parents Proud – The Pains of Being Pure at Heart {NYC}
04. Night Train – Brown Recluse Sings {Philadelphia, PA}
05. To Live and Die in the Airport Lounge – My Teenage Stride {NYC}
06. Kids Are The Same – Pants Yell! {Cambridge, MA}
07. Looking At Stars – Professor Pez {Bergen, Norway}
08. Sophia – Toothaches {Jamaica Plain, MA}
09. Zombie Song – The Besties {Brooklyn, NY}
10. Faster Pussycat, Phil! Phil! – Bunnygrunt {St. Louis, MO}
11. The Floods – The Lil' Hospital {Brooklyn, NY}
12. Lived Without It – The Fawns {Northampton, MA}
13. Idyllica – Silly Piano Pillows {Friendsville, PA}
14. Mystery Beach – Nils Folke Valdemar Sings {Gothenburg, Sweden}
15. Drop Dead Innocuous – The Capstan Shafts {Lyndonville, VT}
16. Stars Hang Bright – Surefire Broadcast {Hammonton, NJ}
17. Sapphire – The Smittens {Burlington, VT}
18. True Love Good Morning – Scary Monster {Philadelphia, PA}
19. The Devil from Nowhere – St. Christopher {York, UK}
20. Hole in My Pocket – The 500s {Portland, ME}
21. Rosie the Riveter – eula, {New Haven, CT}
22. Happiest in History – One Happy Island, {Boston, MA}