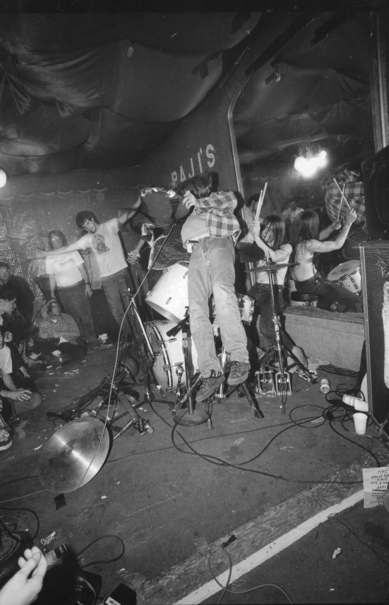 Based on all current internet reports, tonight is going to kick some serious ass.
EMP members, press, and invited guests are being beckoned down to Seattle Center to check out the prefunk for the opening of Nirvana: Taking Punk to the Masses. It's just the beginning of a weekend full of grand-opening events, but we're particularly excited about this evening's affair — because some legendary folks will be taking to the turntables (!!) and spinning hits for the night, including Kurt Bloch, Steve Fisk, Charles Peterson, and Mark Pickerel. No shit.
You know. Just another Friday night in Seattle.
Here's the whole rundown of the weekend, if you're out kicking some Record Store Day activities and want to take break to peek at the EMP's happenings. Please note that tonight's event was closed for RSVP replies last week, so the first chance you'll have to view the exhibit is tomorrow morning (for members, at a family-friendly pre-opening) or tomorrow afternoon (for non-members, starting at noon).
Friday, April 15th
EMP members get the first look at the world-premiere opening of Nirvana: Taking Punk to the Masses. Current or new members who join and RSVP by April 8 may attend as space is available. Celebrity guest DJs will spin iconic songs from punk to grunge, and all points in between, including: Kurt Bloch (Young Fresh Fellows and Fastbacks), Steve Fisk  (Record producer of Nirvana and Soundgarden), Charles Peterson (grunge-era photographer) and Mark Pickerel (Screaming Trees and Truly).
Saturday, April 16th
Starting at noon, the public is welcome to explore the road stories and behind-the-scenes tales during Nirvana's world tours from 1989-1994, as seen through the eyes of the people who kept it rolling. Nirvana: Taking Punk to the Masses curator Jacob McMurray moderates this panel with the band's sound engineer Craig Montgomery, drum tech Barrett Jones, Kurt's guitar tech Earnie Bailey and more guests to be announced. Price: $10 General Admission, $5 EMP Members.
At 2:30, Senior Curator Jacob McMurray will lead a panel discussion on the Metropolis and the salad days of Seattle punk rock with former club owner Hugo "Poki" Piottin, Jason Finn (Love Battery, The Presidents of the USA), famed grunge photographer Charles Peterson, Alice in Chains manager Susan Silver, Tom Price (Gas Huffer, U-Men) and Kurt Bloch (Fastbacks, Young Fresh Fellows). Price: $10 General Admission, $5 EMP Members.
Sunday, April 17th
Beginning at 11:30, make plans to sit back and prepare to be floored by Nirvana live in action on the big screen of JBL Theater. These concert films chronicle three very different facets of the band: footage from early shows as selected by the band members, one of their most legendary and raucous concerts, and finally their genre-shattering performance on MTV Unplugged.  Films will be screened in JBL Theater at EMP. Admission is free. Seating is first-come, first-served.
For more information on this and other EMP exhibits, visit http://www.empsfm.org.
We'll see you there!
{Photo courtesy of Sub Pop.}