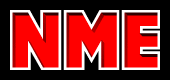 This just in: NME has kicked off their own version of American Idol (which actually was originally a rip-off of a British TV-show competition, wasn't it?).
The NME version, which won't be on TV but will basically live online, is going to feature panel of judges consisting of a bunch of NME staffers, Alan McGee and music industry professionals. Once the judges have chosen their top 10 – those 10 artists/bands will be featured on NME.com and voted on by the people (well, NME.com readers).
The deadline is June 1st, so gather those infectious riffs now! I can't wait to see your best sneer for the cover.
Here's the full PR announcement:
NME KICKS OFF U.S. BREAKING BANDS CAMPAIGN
A SEARCH FOR THE HOTTEST EMERGING ARTISTS

Today NME.COM kicks off their first ever U.S. Breaking Bands initiative. Unsigned emerging artists from all over of the United States will vie for the chance to join the ranks of other critically acclaimed musicians such as Nirvana, Hole and Coldplay who have found their start in the pages of NME.

Artists can visit NME.COM and submit their music, which will be reviewed by a panel of music industry music experts from the UK and US. The expert panel will consist of select NME journalists including Ben Perreau, NME.COM editor, Conor McNicholas, Editor of NME, and James Jam, NME New Bands Editor as well as other music industry professionals such as Alan McGee, the man responsible for discovering Oasis.

All entries must be received by June 1st when they will be reviewed by the judges who will provide authoritative advice and direction. The entries will be narrowed down to a Top 10 who will be featured on NME.COM, where fans and NME.COM readers will be able to give their feedback.

The band with the most positive responses from the panel and the public will have the opportunity to perform at an upcoming Club NME LA, which has permanent residence at Spaceland.

Ben Perreau, editor of NME.COM said: "We're overjoyed at being able to bring the Breaking Bands initiative over from the UK. Now talented new US bands will be able to benefit from over half a century of experience combined with our unique industry contacts and a dialogue with the world's most passionate music fans."

NME has a rich history of exposing fans to new music, from the Beatles to the Arctic Monkeys. The publication has expanded its brand to support emerging artists through the launch of Club NME, which now takes place in over 19 cities throughout the world. With exposure on NME.com and the opportunity to perform at Club NME LA date, the winner of Breaking Bands will be able to set the foundation to launch a successful musical career.
Wow – does today feel like NME Thursday or what?