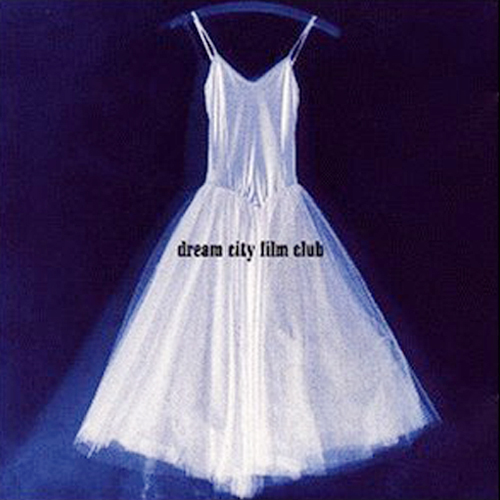 Perhaps my favorite unknown band is Dream City Film Club, a group from London who existed during the mid to late 1990s. Fronted by Michael J. Sheehy, a man bestowed with a beautiful voice and a penchant for black humor, the band was picked up by legendary UK independent label Beggars Banquet in 1996, and released three marvelous LPs (and some singles) within the span of just over two years — before dissolving into obscurity. Sheehy has great admiration for both Elvis and The Stooges, and this comes across in his songwriting. Other notable characteristics of his include his interest in penning songs that often deal with the underside of society, and creating songs that makes you uncertain if you want to laugh or cry when you hear them.
The sound of the band falls somewhere in between Nick Cave and the Bad Seeds and Bauhaus, and includes folk elements as well, particularly with the guitar performances. All three of their records are lost classics that probably sold few copies upon release. Their first eponymous album was released in 1997, and at this point the group was a four piece. "If I Die, I Die" is a highlight from the record that was also released as a single. With its somber melody and sharp, jazzy drumming, it is a good introductory song. Listen to the track and watch the macabre video here.
"Night of Nights" is a low-key number that features some folky guitar playing in addition to Sheehy's unique voice. Lyrically, the song takes place in a car with love and death looming ever so near: "Familiar sensations in an unfamiliar place/Should be watching the road, but I'm watching your face/As you sit across my hips with your dress hitched high/Everything's so close, I don't care if we die/Look out world cause here we come…Just me and my girl on this night of nights."
By the time that Dream City Film Club released their second album, In The Cold Light of Morning (1999), the band was whittled down to a three piece, although this change does not seem apparent in sound. "Nerveshot" is an amazing track that is much more aggressive than the previous two examples. The interplay between the drums, bass and frenetic guitar is fantastic. "I woke up this morning and my nerves were shot to pieces" is the line that opens the song and from there, a disturbing narrative takes place. Just listen to Sheehy howl during the final minute of the track… incredible.
"The Curse," also from In the Cold Light of Morning, is another standout track. Here, the singer casts a malediction on a lover who left him for somebody else. Sheehy beautifully sings the lines "Let the image of my face pressed up against her face/And the time that she was mine burn into her mind/I've been betrayed by my loved one/May their sky turn black above/May they choke on each other's tongues/May they never fall in love" over layered washes of mournful guitar.
For further listening, if I still have your attention, check out "God Will Punish the Pervert Preacher," which perhaps owns the coolest drum sound that I have heard. This song just builds and builds until finally closing in a wonderful incendiary clamor. Also, "Stranger Blues," the title track from their final LP, reveals another side of the band. Here, sound samples are used to augment the groovy rhythm section, which supports Sheehy singing the lyrics of Robert Johnson and Elvis Presley, among other blues legends.
Dream City Film Club ceased to exist shortly after releasing Stranger Blues in 1999, and Michael J. Sheehy then ventured onto a solo career that has also produced some amazing records. In fact, his first one, Sweet Blue Gene (2000), is probably my favorite thing that he ever recorded. I could write another feature on that album alone — if you like what you hear in this article, proceed to that album as soon as possible.