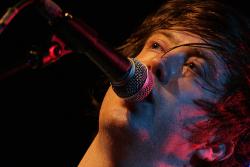 Okkervil River is one of my all-time favorite bands to see live. Perhaps we've told you about how great all their shows are…? Like this one, and this one, and OMFG this one, and oh yea this one, and of course this one too.
I challenge you to find a more charismatic and talented live band who give as consistently amazing a live performance as Okkervil River. Go on, I dare you. As igLiz has said more than once — never, ever miss a chance to see Okkervil River live.
And now, here's your chance! The band returns to Seattle on Wednesda, September 17. The show is all-ages, and tickets are $16 plus some pesky Ticketmaster service charges– and worth every damn penny.
The Showbox is the biggest venue the band has played yet in Seattle, but with the ever-growing popularity following the release of The Stage Names, I wouldn't be surprised if the show sells out… so get your tickets here.