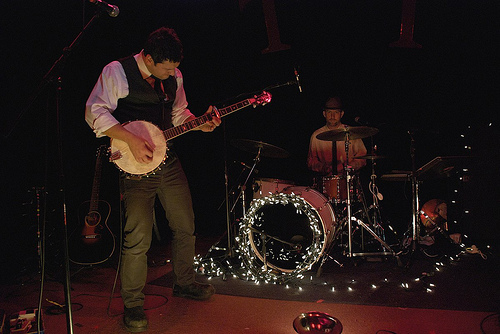 I can't say enough about how much I love Elliott Brood. (Well, I have, actually. More than once.) These Canadian-based singer-songwriters fill every performance with both grit and grace, overflow their rock base with alt.americana overtones, and put out more energy in one night than most bands put out in a month. They're one of the hardest working bands I know — and, they're nice. Really, really nice. So if you want to come out and get your gritty-nice-americana-Canadian love on, you can do it for nine bucks at the Tractor. Tonight! More tour dates below.
(PS: Mississippi Studios is going to be a great venue to catch these guys at, PDX readers!)
October 9, 2009 – The Tractor Tavern, Seattle, WA
October 10, 2009 – Mississippi Studios, Portland, OR
October 12, 2009 – Cafe Du Nord, San Francisco, CA
October 13, 2009 – Hotel Cafe, Los Angeles, CA
October 14, 2009 – The Rhythm Room, Phoenix, AZ
October 16, 2009 – Emo's, Austin, TX
October 17, 2009 – Hailey's, Denton, TX
October 18, 2009 – Maxine's, Hot Springs, AK
October 20, 2009 – Schuba's, Chicago, IL
October 21, 2009 – Beachland Ballroom, Cleveland, OH
October 23,24,25, 2009 – TBA for CMJ Music Festival, New York, NY
See you at the show!