Sound the imaginary bells: only THREE WEEKS FROM TONIGHT till our first TIG 5th birthday show (the second one is the following night). First Bob Barker, and now this! We are all a-flutter here at imaginary HQ!!!!
In honor of the 22nd day pre-event, today we give you the GORGEOUS show post for the 7/6 show (we'll share the 7/7 show tomorrow). Rick from Seattle Poster Designs truly outdid himself this time..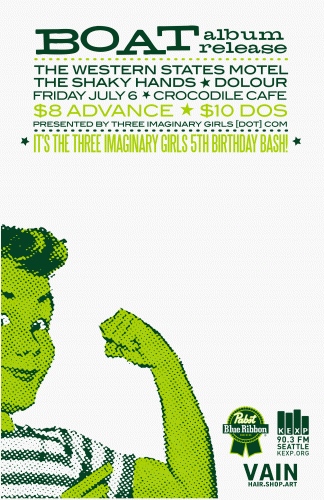 Here is the show rundown….
Friday night 7/6 at the Croc (21+)

BOAT (CD release show!)
The Shaky Hands
Dolour
The Western States Motel

Tickets are $8 in advance, $10 DOS {buy}

Saturday night 7/7 at the Vera Project (all-ages)

The Shaky Hands
BOAT (CD release show!)
Eux Autres
Patience Please

Tickets are $7, $6 for Vera members {buy}