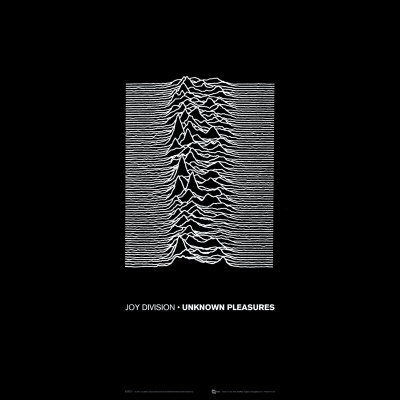 It's the album cover that has inspired possibly the coolest t-shirt in rock music history.
Peter Hook is taking Unknown Pleasures out on the road with his band The Light, and the ten tracks on the album will do for those of us reading this website what a reunion of Pink Floyd doing Dark Side of The Moon would do for our parents, aunts, and uncles. Unfortunately, due to dissolving relationships of his own and many other problems, there is no Ian Curtis to moan into the abyss this time — but Hook has had experience in both JD and the follow-up band made from its ashes-phoenix, New Order, and is throwing in some tracks from original punk band Warsaw besides.
Can you believe all this live music revival goodness will be happening in Seattle next week, December 7, at the Showbox at the Market? There are some people who grumble about the "playing the whole album live" business, but I'm sure even they are intrigued. Especially them, actually. Unknown Pleasures is an album's album, great single tracks regardless, due to its uniformity of sound and over-plus of existential intensity, which these music fans are probably all up in. Unknown Pleasures is the album where the post-punk strip-down happened first, best, and the most — it is to rock music what Wagner is to opera (and Hook's bass is to alternative dance music as Jimi Hendrix's guitar was to hard rock).
Chris Ott of Pitchfork in his 33 1/3 devoted to the LP called it "the end of pop … ." The late Tony Wilson, famous for founding the Manchester-based label and club that would give Joy Division their boost into history, is quoted in Simon Reynolds' new book Totally Wired as saying about the "crazed (but) deliciously clever" producer, "Martin Hannett is the kind of man who could hear the sound of the moon moving around the earth." He also claims the band hated Unknown Pleasures due to it being created fully out of absolute hardship and creative suffering, and "if they'd had their way it never would have been released."
Though the historical and aesthetic reign of Unknown Pleasures may have had quite a bit to do with Hannett and with the patronage of Wilson, chief of Factory (the label for UP and its also-crucial follow up Closer) and The Hacienda (the club they got serious at and played regularly), the music played by those musicians is essential and immortal enough to keep young bands coming back to it year by year, a sort of dark pool of eternal creative life. All I know is when the girl I'd fallen madly in love with dumped me (for the first time), leaving me in a windowless basement bed-sit in Spokane in the middle of a deep-snowed winter, all I did was lie in bed and play this one LP over and over, only rising to flip it over. (Imagine if CD players with repeat had existed then! I'd still be there now, listening to "Interzone," my eyes no longer seeing, like a pale little fish at the bottom of the ocean.)
"She's Lost Control," "Transmission," "Atmosphere," and the stand-alone single "Love Will Tear Us Apart" all came from sessions Joy Division did starting in April of 1979, as 15 songs they'd been rehearsing — and then sacrificed to the mercurial, drug-stoked Hannett, formed through their ferocious ambition and his "impatient, cerebral hyperactivity." Their sound was broken down piece by piece, the buzz-saw roar of Ian Curtis on vocals, Peter Hook on bass and backing vocals, Bernard Summer on guitar and keyboards, and Stephen Morris on drums minimalistically reinvented as Joy Division starring in their debut Unknown Pleasures.
Don't miss this chance to hear one of its primary players displayed all its icy charms at once!