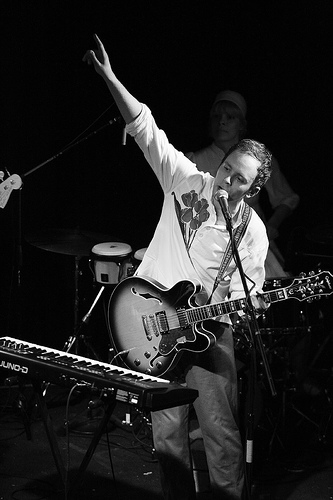 Oh Olympia, how dear are you? It's like you know exactly what I want, and then wrap it up in a sweet, DIY, indie package.
This time you've spawned a new radio show, on Olympia's public radio masta ship KAOS named
Pining for the Fjords
whose mission in life is to feature pop / folk / electronica / soul bands and artists from the Scandinavian countries — mainly Norway and Sweden, but also Denmark, Finland, and Iceland. 
The weekly show (every Thursday) debut'd last week and this afternoon from 1p to 3p is the show's second installment.
If you're in radio range of Oly, you can listen on ye olde radio at 89.3 FM. The rest of the world can listen LIVE online at
www.kaosradio.org
 from
1p-3p TODAY
(and every Thursday from here on out).
And if you want solid proof this is the show for your afternoon listening pleasure, here's the playlist from the first PFTF radio show:
Jens Lekman – "Friday Night at the Drive-In Bingo" – Night Falls Over Kortedala – 2007

Major Seven & the Minors – "Baretta" – Music to Watch Nerds By – 2005

Matias Tellez – "Brand New Kicks" – Tamias Mellez – 2007

August & the Red Apples – "Tired Children Fighting" – From Under the Sun – 2007

Kristoffer Ragnstam – "Man Overboard" – Sweet Bills – 2007

Nicole Willis & the Soul Investigators – "Feeling Free" – Keep Reachin' Up – 2007

Pelle Carlberg – "I Love You, You Imbecile" – In a Nutshell – 2007

Velouria – "Anyway" – sgtpetter.com – ?

Anna Ternheim – "You Mean Nothing to Me Anymore" – Halfway to Fivepoints – 2008

hjaltalín – "Goodbye July" – Sleepdrunk Seasons – 2007

Julian Berntzen – "Rocket Ship Love" – Rocket Ship Love – 2008

AK-momo – "Time for the Muse" – Return to N.Y. – 2005

The Cardigans – "Our Space" – Life – 1996

Pétur Ben – "White Tiger" – Wine for My Weakness – 2006

The Kulta Beats – "Florida" – Bring Out Your Life Vests – 2007

Ane Brun featuring Teitur – "Rubber & Soul" – A Temporary Dive – 2005

Jim Stärk w/Claudia Scott – "You're the One That I Want" – Ten Songs and Hey Hey – 2003

The Loch Ness Mouse – "Yours to Begin With" – 11-22 – 2005

Club 8 – "Everlasting Love" – The Friend I Once Had – 1998

Mark Noseby – "Superstar" – ? – ?

Peter Morén – "Twisted" – The Last Tycoon – 2008

Popium – "Smudge" – Camp – 2004

Acid House Kings – "This Heart Is A Stone" – Sing Along With Acid House Kings – 2005

Lykke Li – "Dance, Dance, Dance" – Little Bit EP – 2008

Regina – "Naapurissa Puretaan Taloa" – Oi miter suuria voimia! – 2007

Susanna – "Lily" – Sonata Mix Dwarf Cosmos – 2007

Irene – "Baby I Love Your Way" – Apple Bay – 2006

Jose Gonzalez – "Crosses" – Veneer – 2005