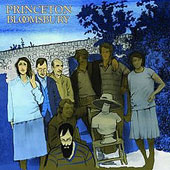 Sometimes an album comes across my desk that takes me by surprise. I might look at the cover of some up-and-coming band I've never heard of and convince myself, from that first glance, that this band just isn't for me. Maybe I'll say I'm in a different mode, or I'm too busy catching up on the "important" works of indie music. Doesn't matter, the truth is as clearer than the recent Seattle weather: I'm often afraid of giving a new band a chance.
So went my first encounter with Los Angeles trio Princeton. Their newest EP is named for the early 20th century intellectual circle called the Bloomsbury group, famous for members Lytton Strachey and Virginia Woolf. Sounds pretentious, right? That was my excuse for never listening to it. But one cannot survive on a diet of bad office coffee and Radiohead forever, so I loaded the EP onto my iPod and took a walk.
What Bloomsbury is, outside of a literary group I hadn't heard of since college, is four lush, bright tracks of lovely 60s-tinged pop. A bouncy piano rag opens up "In Waves," floating lightly over klackity percussion and clapping hands. "Ms. Bentwich" is layered with sweet-sounding strings, while "Leonard Woolf" and "Eminent Victorians" is straight-up guitar pop in the vein of The Kinks, or Vampire Weekend without all the hype. The whole thing is over too quickly and demands to be played again on the kind of sunny day we're finally getting and so richly deserve. Hit their MySpace to hear all four tracks.
Another bonus to finally giving Bloomsbury a spin: Princeton is playing Seattle this Sunday at the Comet, with Webelos and Manos De Plata. Tickets are $6, doors open at 9. Anybody going? Now that I can't get these songs out of my head, I think I've got plans Sunday night.