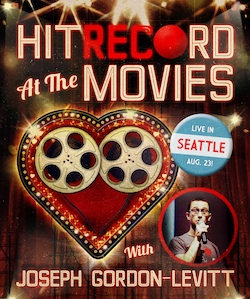 I know I'm not the only one totally crushing on Joseph Gordon-Levitt. This guy is a freakin' phenomenal actor, was on one of the funniest TV shows of all time, and also looks damn fine in a suit.
To top it all off, he started this awesome thing called hitRECord, which is an online production community focused on collaboration and creativity in multimedia–everything from film to music and art–and now he's bringing it on the road to a live audience with "hitRECord at the Movies". Luckily for us, one of his tour stops is Seattle!
I heartily encourage you to buy tickets now to see this show, because 1) It's gonna sell out and 2) you don't want to miss the chance to drool over JGL participate in some very cool multimedia art. See, you don't have to just sit there in the seats, you get to bring your cameras with you and "hit record" (GET IT?), and interact with everyone.
Mr. Gordon-Levitt is also doing a Seattle city project – so shoot video, draw pictures, write or sing about how much you love our city, and contribute to the hitRECord site. Maybe you'll see your stuff up on the screen….
hitRECord at the Movies
The Neptune Theatre
Tuesday, 8/23 @8:30pm
$26 advance / $28 day of show