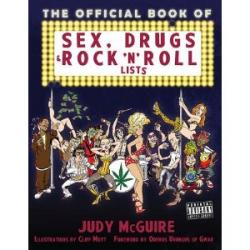 So, Judy McGuire, aka: Dategirl over at Seattle Weekly, just wrote a book! And she's having a release party to celebrate this book on Thursday, 6/14 at The Sunset!
The Official Book of Sex, Drugs & Rock 'n Roll Lists is filled with, well, lists, like: 8 Reasons You Shouldn't Listen to Song Lyrics for Help With Your Love Life, and, I guess, all the things that Sid loves (loved?) about Nancy.
And this is not going to be anything like a regular bookstore reading, because Judy's book release features DJ El Toro (Kurt B. Reighley) spinning tunes inspired by the book's lists, and a trivia contest with exciting prizes!!! Plus, afterwords you can stick around and see Amy Lavere with Shelby Earl and Mark Pickerel play for a mere $8.
So, I'll see you there, right??? RIGHT.
{Thur 6/14| EARLY, 6-8pm: The Official Book of Sex, Drugs and Rock 'n' Roll Lists Release Party! | LATE 9pm: Amy Lavere with Shelby Earl and Mark Pickerel | $8}