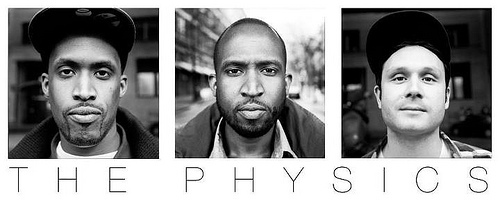 Whether the rest of the country takes notice or not, most of Seattle is already well aware of our burgeoning and ever-growing hip-hop scene. The past few years have shown it to grow in new and progressive directions, from the heart-on-sleeve, stadium anthems of Macklemore to the forward-thinking sounds of Shabazz Palaces, and everything in between. The Emerald City is loaded with talent — and while the bulk of it is not only recognized but also facilitated, somehow, The Physics have somehow managed to slide a just a little bit under the radar. With their newest album Tomorrow People, they're hoping to change all that.
It's not that the Physics haven't already been putting out great material: their 2011 album Love is a Business is an underrated gem from start to finish. Featuring some top-notch production work courtesy of Justo, Love is a Business oscillates between smooth R&B grooves and soul-sampling feel-good jams with the greatest of ease. And it keeps on coming — in the lead-up to Tomorrow People's release on August 25th, the Physics have released two songs, "Days" (a nostalgic look back on their journey to get to this point, and the city that nurtured their growth thus far) and "Take a Win" (featuring production from Jake One). Thig Nat and Monk Wordsmith's flows are as tight as ever, and you can get a sneak peak for yourself by clicking over to the band's bandcamp page here. Tomorrow People also features guest appearances from fellow Seattle rapper and current world traveler Sol, as well as "King of Ballard", Grynch.
If you want the best representation of what the Physics are all about, look no further than Love is a Business' standout track "Coronas on Madrona", which was my own personal I can't stop listening to this song! jam from last summer. And take in all things new at The Physics' Tomorrow People album release show at Neumos on Saturday, August 25th. Joining them are fellow Seattle hip-hop acts Brothers From Another, The Bar, and local producer extraordinaire Jake One. Don't miss out!
{Neumos / Saturday, August 25th / 8PM / $12 Adv / All Ages. More info and tickets here.}