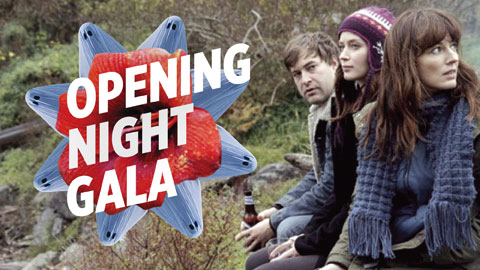 The 38th Seattle International Film Festival kicks off in a week at Marion Oliver McCaw Hall on Thursday, 5/17 and I'm more excited for the Opening Night Gala than EVER—because they are showing the amazing new film by Lynn Shelton!! !!! ! !
I said that Your Sister's Sister is probably the best Opening Night film SIFF has programmed since I've been going to Opening Night (which is at 7 years, if my math is right—questionable to be sure, but it's been a few at least) on the Scarecrow Video Podcast a few weeks ago, and I meant it. Shelton has crafted a film that takes a crazily hilarious situation and makes it seem totally and completely honest and real. I laughed, I cried, yada yada yada—but seriously: it's a REALLY REALLY REALLY good film. Trust me on this one.
And of course, after the film there will be tasty snacks, free-flowing alcoholic drinks, and a whole lot of people analyzing the film, dancing badly, looking for more important people to talk to, and trying to hook up. In other words: PRIME PEOPLE WATCHING (which is what I'll be doing … along with dancing badly, I imagine).
Get your tickets now! I can't imagine a world in which SIFF 2012 Opening Night doesn't sell out, and probably early too.
Related: The TIG staff has already started reviewing films for the festival so we can guide our imaginary readers to the best (and worst) films this year! We'll start updates closer to Opening Night, and you can find links to all coverage on our SIFF 2012 page. And, check out this year's SIFFtastic video:
{Tickets available online: General Admission Tix $50, $45 SIFF Members (includes 2 drink tickets) | Premium Admission $100, $90 SIFF Members (includes open bar + preferred entry) | Red Carpet Experience $225 (private catered pre-reception, valet parking, gift bag, reserved seating, open bar)}