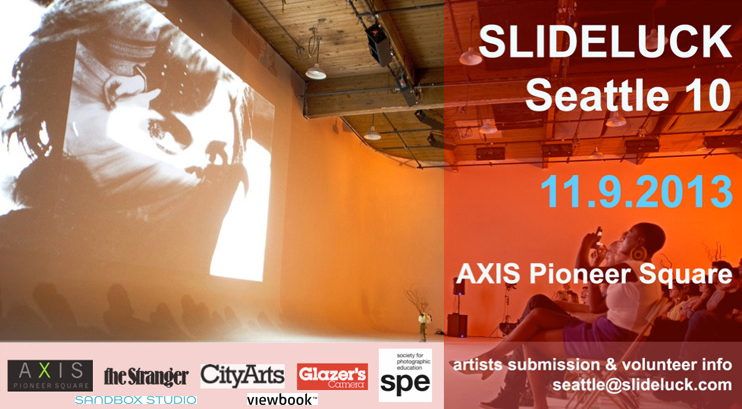 Mark your calendars, imaginary friends. SLIDELUCK Seattle 10 is coming up.
"What is it?" you ask? Well, SLIDELUCK is a digitally-projected slideshow, concert and potluck dinner taking place at a new 6,000 square foot space, AXIS Studios, in Pioneer Square (formerly Elliott Bay Books). The fun all starts around 6pm on Saturday, November 9th.
There are three bands playing whom you will not want to miss: in addition to Miss Miniver Rose and Sam Miller, you'll be exposed to Postcard From The Badlands and their atmospheric and gorgeous instrumental post-rock. They merge Ennio Morricone, Lee Hazlewood, Godspeed You Black Emperor and The Cinematic Orchestra with wide-open Southwest sunset inspired Jazz-fusion bliss. Postcard from the Badlands is not to be missed and, perhaps, is Seattle's best-kept secret. Surely, a multiple record deal with an esteemed independent label is just around the corner for them.
This is a themed event entitled One Hundred and Fifty Miles, the goal of which is that each and every element that it takes to produce the evening must come from, or utilize resources from, within 150 miles of Seattle. These elements include the art, the ingredients for the food, the sponsors, and even the place settings.
"What does it cost?" is, naturally, your next question: only a paltry ten dollars, and you must provide a locally sourced potluck item, but you and your partner or group of friends can provide one potluck dish for the event. It should also be noted here that the admission fee also includes drink tickets(!) that are good for beer, wine, cocktails and non-alcoholic beverages for the teetotalers and designated drivers. So, basically, you are getting into an amazing arts event, communal dinner and concert for bringing the culinary dish of your choice.
The doors open at 6:00with the potluck beginning at 7:00 p.m. and the music and slideshow to follow. Tickets and more information available here.