Do you like Muppets? And local bands? And $3 beers? Well then, I have the show for YOU. The EMP|SFM Exhibitchin' #01 is tonight! The deets: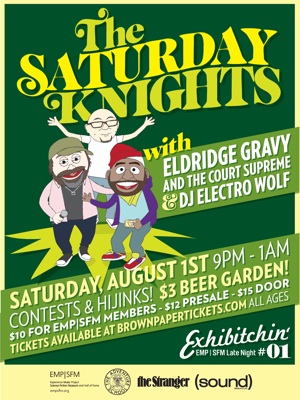 Date: Saturday, August 1, 2009 – Sunday, August 2, 2009
Time: 9:00 pm – 1:00 am
Ticket Info: Tickets are $10 for EMP|SFM members and $12 for the general public in advance; and $15 for EMP|SFM members and general public at the door. Tickets are on sale now at brownpapertickets.com.
EMP|SFM's new after hours dance party will feature live music, cheap drinks and super surprises throughout the evening and into the morning.
Start the night out right and get your inner-Muppet on for an Animal drumming competition! Drums and sticks will be provided, animalistic tendencies—that's all you, baby. Dance to music by local rap-pop-rock legends The Saturday Knights, the deliciously funky Eldridge Gravy & the Court Supreme and wunderkind spin master DJ Electro Wolf. Enjoy $3 beers and other drink specials throughout the night. Oh, and did we mention surprises? What's a bitchin' event without a little spectacle here and there?
Prizes for most-spazzy and most-snazzy Animal impersonations will be awarded. Save a place in the competition, send an e-mail to [email protected] and get the low-down.
Based on the excitement around this event, and the tweets I've seen about it (EMPSFM: Just heard we found shackles for our Animal drumming contest during Exhibitchin' 2morrow night. Winner gets Bumbershoot tiks! ), Exhibitchin' #01 sounds like a great way to spend my Saturday (K)night, so I'm gonna go check it out.
You go too.