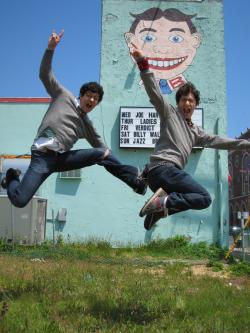 It's probably totally weird that I've never read a Harry Potter book, that I find the movies utterly forgettable, and that I just plain don't get people's extreme HP fandom—but, you guys. BUT.
I've been crushing on brothers Paul and Joe DeGeorge of Harry and the Potters since I saw them play at the UW Bookstore sometime around 2003. They are exceptionally cute, very sweet, and just all around awesome guys who play rock-n-roll about all things Harry Potter.
As if that weren't enough, these adorable rockers put together the Harry Potter Alliance; an organization that inspires social activism based on HP themes, and the Wizard Rock EP of the Month Club: a club featuring monthly releases from wizard rock bands, with proceeds going to literary-based non-profits. To date, they've raised over $50,000.
This year is their 10 Year "Bandiversary", so the boys are rockin' their way up the West Coast with a Summer Tour, and lucky for us, they are landing in Seattle on July 31 at The Vera Project with fellow dude of awesomeness Hank Green, and The Potter Puppet Pals. Yay!
You might ask if Harry and the Potters are a kid's band, and if so, you then might ask WHY I like them. All I can say to you is that you need to experience the imaginary goodness that is H&tP yourself to truly understand. Get a taste of some "Wizard Rock" by checking out one of my personal favorites below, "Save Ginny Weasley"—and then get some tix to the Vera show, before it's sold out!
{Harry and the Potters w/Hank Green | Tuesday, July 31 | The Vera Project | All Ages | $10 | 6pm}