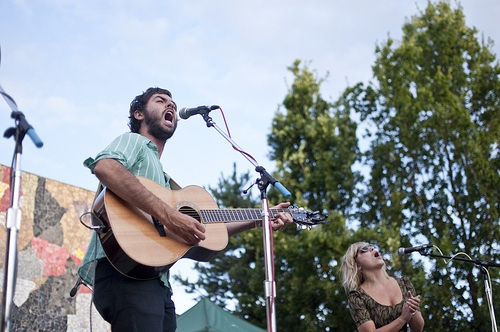 With August right around the corner, the time of year has come once again to reserve every Friday for a lovely lounge with your friends on the lawns of Seattle Center, where KEXP will be presenting another fantastic year of their Concerts At The Mural series. There's a night for everyone, with bands ranging from roots to indie pop to hip hop and back again — in some cases, all in one night! Take a look at the schedule below, and mark your calendar accordingly:
Friday, 8/3 // Hosted by DJ El Toro
Shovels & Rope
Sallie Ford & the Sound Outside
Legendary Oaks
Fly Moon Royalty
Friday, 8/10 // Hosted by Quilty 3000
Brad
The Young Evils
Posse
Friday, 8/17 // Hosted by Troy Nelson
Love Battery
Absolute Monarchs
Wayfinders
Friday, 8/24 // Hosted by Larry Mizell Jr.
Fresh Espresso
Reptar
BOAT
Don't forget, these concerts are always free and always all ages — and for those of you looking to imbibe, there's a reasonably-priced 21+ beer garden with a great view on the back half of the Mural lawn.
We'll see you there! All shows start promptly at 5:30.
{Photo of The Head and the Heart at KEXP's 2010 Concerts At The Mural series by Victoria VanBruinisse.}