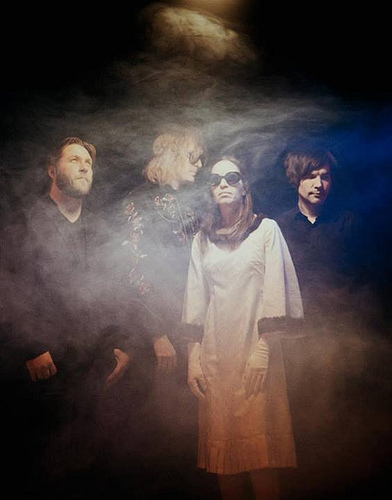 There are so many great bands that have come out of Montreal in the past decade, you have to wonder what it is about the French Canadian city that spawns such a diversity of great acts like Wolf Parade, Stars, Grimes, Purity Ring, and Arcade Fire — just to name a few. The Besnard Lakes founders, husband and wife duo of Jace Lasek and Olga Goreas, are no stranger to the prolific Montreal music scene — as the owner of Breakglass Studios in Montreal, Lasek has produced and engineered albums for Wolf Parade, The Dears, and Stars among others.
It was this immediate access to a recording studio that helped the duo when it came time to make their own music as The Besnard Lakes, beginning with their 2003 debut album Volume 1. They really found their stride, however, on their 2007 release The Besnard Lakes Are The Dark Horse, the first release for their current label Jagjaguwar. The album found them honing their dynamic sound of crashy, explosive guitar riffs with gentle melodic instrumentation, laid over Lasek's falsetto vocals. They further expounded on that sound with their 2010 release The Besnard Lakes Are The Roaring Night, and again earlier this year with their fourth full length Until in Excess, Imperceptible UFO. Each of their last three releases have all been nominated for the Polaris Music Prize, which goes to the best album released by a Canadian artist.
Check out the video for their song "Albatross", featuring vocals from Goreas:
Intrigued? You can catch the band live at the Crocodile this Tuesday, November 12th. Their sprawling wall-of-sound songs and smoke machine should fill every inch of the place. Opening the show are fellow Montreal band Elephant Stone. Best of all, it's all only $11!
{8:00pm / all ages. Tickets and more info available here.}