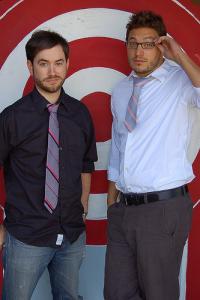 It's rare these days that I make it out of my house on a weeknight to see a show, but this Thursday I'm heading down to the High Dive in Fremont to see the Black Swedes emote some extreme alt-rock goodness and celebrate the release of their 3-CD box set, Catching Up with the Black Swedes.
The Swedes will be joined by Levi Fuller and Colin J Nelson (who is also releasing a new CD that eve). Show starts at 9pm with a $7 cover. Who's with me?
Note: In my review of Catching Up with the Black Swedes, I said the CD box set would be available for $10, but they will actually be selling it for only $7 at the show!