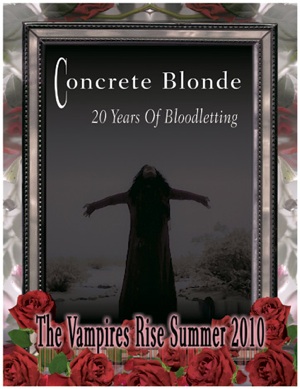 Though Bloodletting was released shortly after I escaped High School, I was already a long-time Concrete Blonde devotee. Having rocked my way through their debut in 1986 (thanks to The Hidden's "Still in Hollywood" scene) and identifying with the melancholy yet still rocking Free in 1989, I eagerly anticipated their follow-up in 1990.
My first exposure to Bloodletting was of course, "Joey", which got so much airplay I can't remember a day, or hell, even a hour going by without hearing it – a good song, sure, but it didn't make me sob like "Tomorrow, Wendy", throw me into goth girl angst like the title song: "Bloodletting (The Vampire Song)", or make me shout the lyrics out loud like "The Sky is a Poisonous Garden".
Bloodletting took everything I experienced as a teen (vampires, darkness, feeling lost and helpless – and and also: FUCK this world) and packaged it up with deep, rocking beats, killer guitar work and beautiful, haunting vocals.
The performance I saw 20 years ago was a thing of absolute beauty – so when I heard they'd be doing it again THIS Thursday, June 24th at The Showbox (at the Market, 8pm) for the 20th Anniversary of Bloodletting – there's no way I could miss it. As of right now, tickets are still available, so I urge any other nostalgic fans to buy them and join me in being mesmerized by Johnette's amazing voice. Trust me, guys. You should come too!
To wrap up, I present you with the original video for "Bloodletting (The Vampire Song)". Imagine me at 18, in my Doc Martens, stomping around at goth clubs to this, and you'll have a good laugh:
[Video:http://www.youtube.com/watch?v=lQYTNNHc1cQ]