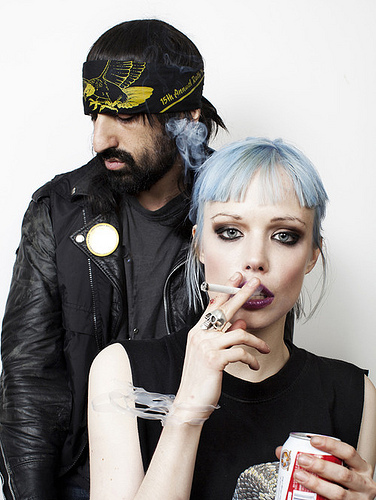 The Toronto based duo of producer/beat maker Ethan Kath and singer Alice Glass seem to have a tendency towards the dark and weird corners of the musical landscape. Their album art features young girls in graveyards, and song titles like "Suffocation", "Plague", "Pale Flesh", and "Violent Dreams." With all of this gothic imagery, one might conclude that a Crystal Castles live show might consist of a bunch of quiet kids swaying back and forth looking at the ground. That couldn't be farther from reality.
Crystal Castles music is largely lo-fi and electronic based, and has evolved over the years from the 8-bit, video game sounds of some of their early work (2008's Crystal Castles) to the fuller, drum-and-bass heavy beats of their latest release, 2012's III. Their live show consists of an often-hooded Kath hunched behind a keyboard, with Glass jumping around chaotically on stage, screaming and bouncing in front of a pulsating strobe light. They often bring a live drummer along with them just to make sure all those drum beats land with enough emphasis. This is a show meant for dancing and breaking a sweat.
While a lot of their songs are often up-tempo, sometimes heavily distorted, and downright loud, the beauty of Crystal Castles is their ability to write slow and melodic songs without losing any of that punch. "Affection", the third single off of III and probably the album's most immediately accessible track, balances this line as good as any Crystal Castles song does:
Crystal Castles play the Moore Theater on Tuesday, April 30th along with Pictureplane. The show is all-ages, with doors opening at 6:30, show at 7:30. Keep in mind, when the Moore says 7:30, they mean 7:30. See you there!