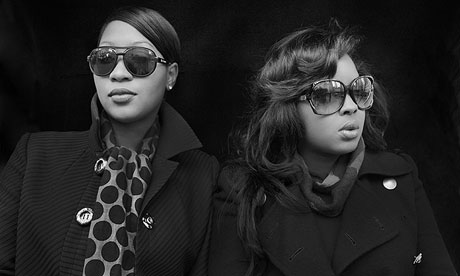 New girl crush alert! I am seriously digging on the ladies of Lady. Their sweet beats and soulful harmonies are completely irresistible with a feminine sass that just dares you not to like them. And you can bet your ass I'm gonna be there when they play Neumos tonight.
These girls have some serious chops: both already have had successful solo careers, peaking in the last decade. Nicole Wray, who hails from Atlanta, was brought up through the business by none other than Miss Superfreak herself, Missy Elliot. Nicole's single, "Make It Hot", went gold way back in 1998. Rounding out the other half of lady is UK darling Terri Walker, her debut album was nominated for the Mercury Prize. When the two met in 2009 they decided to team up to make a record based on their shared passion for hip-hop, R&B, and classic soul. Well, they did just that, and guess what? Their self-titled debut album kicks ass!
Sometimes reminiscent of the Motown girl greats, at others calling on the independence of Mary J. Blige, and always wrapping it in a giant bow of vintage soul — they consistently touch on the universal themes of friendship, love, and respect. The girl power is strong with these two and it truly shows on tracks like "Money," an ode to freeloading boyfriends who in their words "can't wait to roll with me to the bank." It's a no-nonsense R&B Lady Anthem following in the shoes of hits like Erykah Badu's "Tyrone" and Destiny's Child's "Indpendent Women."
But Lady brings the sugar too, especially on "Sweet Lady," a sweetly positive shout-out to their mothers, recalling how they are their ultimate role models. The raw imperfections of Nicole's voice are in perfect balance with the dirty funk groove on "Good Lovin'" and are balanced by the soft depth of Terri's harmonies, and are proof-positive of this brilliant pairing.
Lady is opening for soul mainstay Lee Fields . He's no slouch, releasing his first single in 1969 and never looking back. He'll be appearing with his band The Expressions, giving up the finest Memphis Soul and James Brown-like funk you'll see anywhere.
Don't miss it!
{21+ / $15 adv / 8p doors. Photo courtesy of the band.}