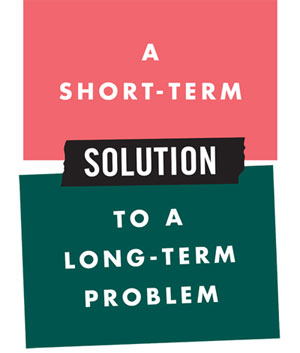 For anyone who has ever read a word of David Schmader's Last Days column in the Stranger, his insights on the Slog or seen one (or all) of his previous stage endeavors, you know that his upcoming one-man play entitled "A Short-Term Solution to a Long-Term Problem" is not to be missed.
For anyone who hasn't laid witness to one of the above, you should rectify your "not yet a David Schmader fan" status immediately.
The play, directed by Matthew Richter and written & performed by Schmader, has extended its run at Capitol Hill's beloved Hugo House — running from March 23 – April 14, 2012 (shows on Fridays and Saturday only).
I can't match Schmader's wit, so here's the cut and paste directly from him on what we can expect from this new piece:
A comedy about unfunny things, "A Short-Term Solution to a Long-Term Problem," commissioned by Richard Hugo House, is writer/performer David Schmader's solo play about the dramatic life upheaval that drove him to spend a decade "living every day like it's your last!"—a profoundly ridiculous adventure that finds Schmader aiming his pointy-headed, fall-off-your-seat wit at marriage, Mormons and the type of relaxation that comes from watching a baby get a spray tan.
Doors for each performance are at 7pm and the show starts at 8pm (there's a disarming bar area in the Hugo House to fill those minutes between doors and start time). Advance tickets are available online at the Hugo House website.
Perhaps *this* is the shining performance that will earn a David Schmader wikipedia page (finally!). It's just suprising that things like this haven't made that happen yet: