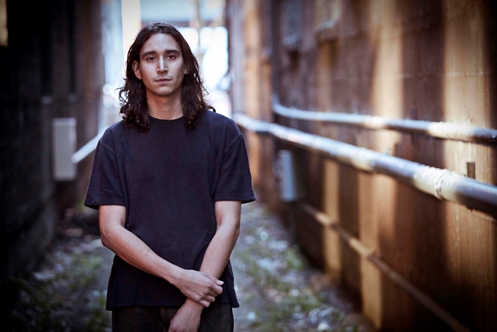 If I were allowed to claim that Seattle has one artist who deserves to break through to a great level of acclaim, then my index finger would quickly point to Gabriel Mintz. With that statement: where do I begin to describe the genius of his music? I'll start by saying that Mintz sounds nothing like his contemporaries, and at his core is simply an amazing songwriter — beyond that, his melodies and arrangements are spectacular. With one part Neil Young, one part Elliott Smith, and another part Sessions-era Fred Neil, the Seattle based musician has recently released the inspired Future Wars, his second release to date. Here is "Castles Fall," the stunning first track on the album. This masterpiece was featured as KEXP's song of the day in September, and that was definitely an astute choice on their part.
In 2010, Mintz did an outstanding studio session for KEXP, which was my initial introduction to his music. When I found out that he resides in Seattle, I was floored. His music is so unique; I thought that he must have been from somewhere else. From that session, check out the ominous "Desert Sky" and the wistful "Western Days," songs from his first album, Volume One. Three years later, Future Wars is a more mature and spacious psychedelic affair than its predecessor. His mastery of loose space and direct resonance are the foundation of the record, and these elements certainly pave the way for a marvelous album in terms of both songwriting and sound. The newly minted Versicolor Records, which is connected with Light in the Attic, released the disc this summer — and hopefully, this will be the first of many Mintz releases to come.
Mintz will be performing with his band, Temple Echoes, a group comprised of several of the musicians featured on Future Wars. They are currently working on material and are looking to release a 7" record soon. Even more reason to put this concert on your calendar and come on out! While you are waiting, be sure to listen to "Windy City," a cool track that blends The Doors, The Velvet Underground, The Stooges and The Thirteenth Floor Elevators into one five-minute opus. And that statement speaks for itself.
I would highly suggest that you should see him perform live at The Sunset on Wednesday, November 6th. Hopefully, his new LP and CD will also be available for sale that evening as well!
{Photo of Gabriel Mintz by Christopher Nelson. 8:30p doors / 9p show / $6.}